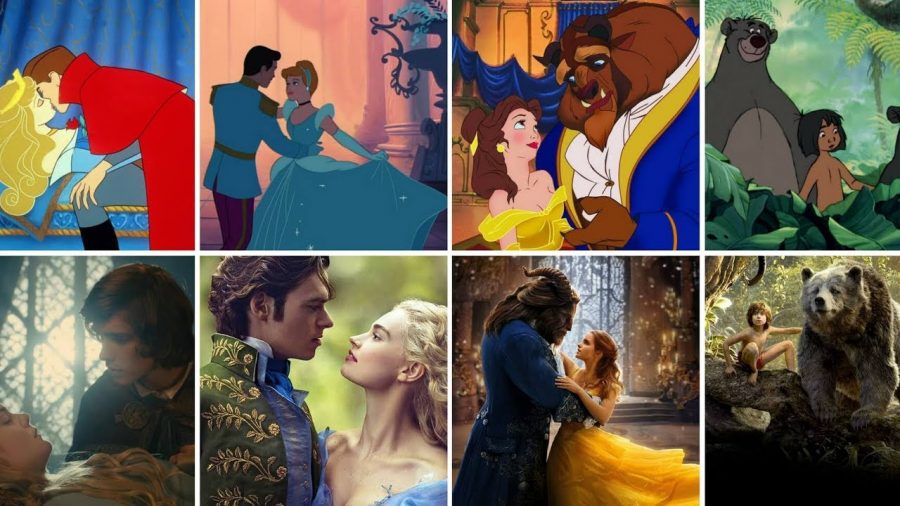 A few weeks ago, during the annual Cowboys Thanksgiving Day football game, Disney released the trailer for the upcoming The Lion King live action CGI remake, and the response was just what Disney had hoped for. The general public, especially millennials and Gen Z kids who grew up with The Lion King were immediately obsessed and couldn't wait for the film's release this July. And rightfully so, the trailer was phenomenal and I'm sure the movie will be as well. With Jon Favreau directing and a cast that includes Donald Glover, Beyonce, Seth Rogen, Keegan-Michael Key and an 87 year old James Earl Jones (among many others) it will be hard for this movie to flop. Disney has a track record of using breathtaking visuals to bring these classic stories to life and pours hundreds of millions into each live action remake they make. And therein lies the problem I have with all of these films.
Since 2015's Cinderella Disney has released a live-action The Jungle Book, and Beauty and the Beast, and between now and summer of 2020, release dates have already been set for a live-action Aladdin, The Lion King, Dumbo, and Mulan. In addition, Disney has plans for a live-action The Little Mermaid, Lady and the Tramp, Peter Pan, Snow White, Pinocchio and The Sword in the Stone, which could release any time between now and the Mid 2020s. I saw the recent Beauty and the Beast and The Jungle Book, and again both were great films, however is this really the best use of Disney's funds? 2017's Beauty and the Beast cost the studio nearly $300 Million dollars, while 2016's The Jungle Book cost $175 Million, even if we wanna lowball and give just $100 Million dollars as the budget for all of the upcoming films, that still comes out to just under $1.5 Billion spent on all their live action remakes since Cinderella. And despite all the wealth the media titan takes in, it's clear that another section of Disney's film production is being shafted, a section that, despite how good these live action films are, produces even higher quality films: Walt Disney Studios Animation.
Walt Disney is only a household name today because of the risks that man took in animated film; he understood that animation could tell compelling and powerful stories for adults and children alike to understand and cherish. And it is that truth which is pushing Disney execs to fund these big budget remakes. The marketability of nostalgia is at an all time high, and so Millenials and Gen Z want to be reminded of the classic movies they grew up on. But those easy cash grab remakes go against everything the company was built upon and have set us on a dangerous path for Disney in the coming years. As we've discussed, from 2015 to the summer of 2021, Walt Disney Studio will have put out seven Live Action remakes of classic animated features. Over the same six years, Walt Disney Studios Animation will have only released four films, Zootopia, Moana, Ralph Breaks the Internet, and Frozen 2. Contrast this with the six year span of 1989 to 1995 in which Disney produced 0 live action remakes, and 8 animated features: The Little Mermaid, The Rescuers Down Under, Beauty and the Beast, Aladdin, The Nightmare Before Christmas, The Lion King, A Goofy Movie and Pocahontas. All eight are great films and four of them (The Little Mermaid, Beauty and the Beast, Aladdin, and The Lion King) are consistently ranked in the top ten animated films of all time. Likewise, Zootopia has been routinely discussed as one of the modern era's best animated films and has the set the bar for the social dialogue that can come from animated features in the politically charged world of today. So, clearly there has not been a loss of skill at Disney Animation over the last 30 years. Instead there has been a loss of opportunity. Disney as a production studio has shown favoritism towards this new, safe, profitable option, at the expense of their truest art which they've been perfecting over the last 100 years. And sure, while I'm beyond excited to hear Beyonce and Childish Gambino sing "Can You Feel the Love Tonight" I am, as a movie fan and as a Disney fan, upset that I have just one original animated Disney film to look forward to over the next two years. Disney has made their mark on the world via animation and every time they release an original film you know to expect a powerful and compelling story, beautifully written music, breathtaking animation, and most times, a legacy that will last an entire generation. And today we see Disney abandoning this formula, in exchange for the effortless and bankable practice of exhausting the legacy of its past films, which deprives today's children of their own set of new "Disney classics," a privilege that every other generation has been granted, and one that, because the studio was always evolving, was never the same for any two groups.