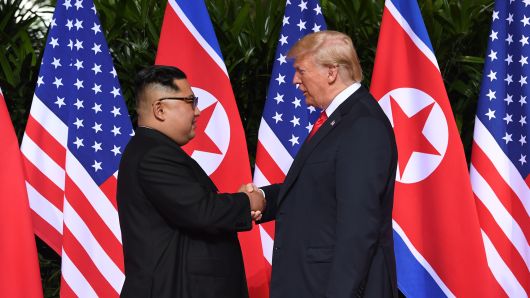 Earlier this week, almost every news station was buzzing with anticipation for the upcoming summit that was to take place between President Donald Trump and North Korean leader Kim Jong Un. Trump, who takes pride in his friendly relationship with Mr. Kim, had high expectations for their meeting in Hanoi, Vietnam this month.
This summit is the second one to have occurred between the two leaders over the issue of nuclear threats and economic sanctions. Though Trump considered their first meeting "a great success," there was much more that he wished to accomplish in Hanoi; namely, denuclearization. North Korea stopped conducting missile tests back in 2017, but Trump continues to seek an agreement for full disarmament. Kim, on the other hand, desires relief from crushing U.S. sanctions, such as trade restrictions. Both leaders were also interested in establishing peace in Korea, perhaps by signing a treaty to officially end the Korean War that began in 1950.
The stage was set for an incredible meeting to take place. Trump arrived in Hanoi on Air Force One late Tuesday night and was greeted eagerly by the Vietnamese. Of course, he documents the events in his tweet:
Kim Jong Un took a nearly 70 hour train ride through southern China and traveled through Vietnam in his limousine. The plan was for the two leaders to meet over two days, first with dinner on Wednesday, then with meetings on Thursday.
However, the summit came to an abrupt halt, without any agreement on nuclear disarmament, economic sanctions, or maintaining peace on the Korean Peninsula. The unsettling end to the summit has left people questioning what truly happened in Vietnam- and who, if anyone, came out with a victory.
According to President Trump at an afternoon news conference in Hanoi, "sometimes you have to walk" if the agreement is not successful. Trump has stated that Kim had offered to disable North Korea's most important nuclear facility if the U.S. lifted its harsh sanctions, but had not offer to control the other parts of its weapons program (New York Times). This, Trump says, is the reason why the leaders could not come to an agreement; he was not willing to lift U.S. sanctions entirely.
In a late-night news conference, North Korea's foreign minister, Ri-Yong ho, gave an entirely different account of the summit. According to Mr. Ri, North Korea had only asked for some sanctions to be lifted in order to "permanently and completely" dismantle the country's main nuclear facility. Ri also said that this position was unlikely to change, signaling more setbacks in future meetings to come.
Despite the summit's abrupt halt, Trump remains optimistic. He said that the conclusion of the meetings "was very friendly" and that the two leaders shook hands before departing. North Korea has confirmed that it will continue to withhold from nuclear testing, and Trump has said the negotiations will continue.