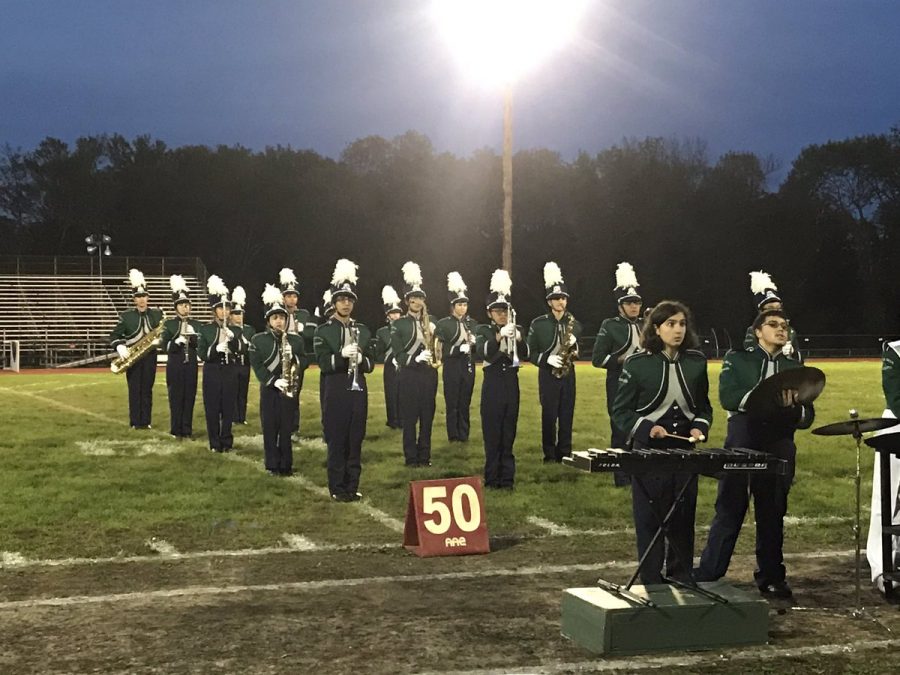 With the year's past abnormalities, sports have been cancelled for the better half of the school year. While many do not consider marching band to be a sport, it too has been cancelled due to its physical nature. 
Every year the six FRHSD schools send their marching bands to one of the schools. This isn't done to compete, but to share their shows with each other. 
Marching band is such a difficult art. Players must play their instruments well while moving. To add onto that responsibility, they also have to be in time with all of the other 30-odd members of the band, without actually being able to see any of them. A marching band kid's responsibility is enormous– they have to play their instruments with proper technique and loud volume, marching on the correct foot, move appropriately when marching backwards or sliding*, remember the visuals, and memorize their music. It is such a difficult art; some would argue it's more difficult than football, yet it is the most under-appreciated.
The district festival is a time that all band kids look forward to—it is arguably the only time where you, as a band kid, are truly appreciated. The other band members recognize how difficult the other schools' shows are and how much time and dedication they put into this. We don't treat it as a competition at the district festival, rather a celebration of each other and each others' amazing gifts. 
I remember a distinct experience I had my freshman year when the festival was in-person. I play the tenor saxophone as my main instrument, and as I was marching onto the field to perform my show with the Colts Neck Marching Cougars, I was passing by another band. This complete stranger yelled "AYO TENOR! GOOD LUCK!" Initially I was confused, but soon realized the other player was talking to me and waved back. That was quite possibly one of the best experiences of my life. I saw a complete stranger and we bonded over playing the same instrument, something so simple yet so powerful at the same time. 
Marching band is one of the core aspects of most band kids, and although the festival couldn't happen this year, it was able to happen virtually. With that being said, on behalf of all marching bands across the FRHSD District, thank you to the band directors and marching band staff who worked so hard to put this together!

Here is the link to the video! 
https://drive.google.com/file/d/1GCUobYxZAlqFEBFBTFaRMXfNYOq-wb6Q/view
*Sliding is when you are marching right or left while the upper half of your body is faced front towards the audience.