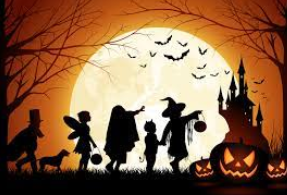 With Halloween approaching, we think about how special of a holiday it is, from carving pumpkins to going through a haunted corn maze, to watching a scary movie with your friends. But nothing is better than coming home from school and getting dressed up in a costume while jamming out to your favorite Halloween hits. Here are my top 8 Halloween songs!
"Calling All The Monsters" by China Anne McClain
This upbeat, amusing song is as fun today as it was when it initially aired on Disney Channel during Monstober. With a club-style beat, this song is a kid-friendly remake of Michael Jackson's "Thriller." Mummies, zombies, and even the wolfman himself are compelled to dance with everyone who sings along.
"Ghostbusters" by Ray Parker Jr.
A classic song written for a classic movie! "Who you gonna call?" Me- to thank me for this phenomenal playlist.
"Halloween Theme" by John Carpenter
This is one of the most iconic theme songs in the movie industry. You can recognize it from anywhere. The quick piano melody gives anyone chills, while also putting you in the Halloween spirit. However, keep an eye out for Micheal Myers and make sure he's not following behind.
"I Put a Spell On You" Performed by Sofia Carson, Dove Cameron, and Jordin Sparks
In 2018, the performers paid tribute to Bette Midler, Sarah Jessica Parker, and Kathy Najimy's legendary 1993 Halloween film "Hocus Pocus," which celebrated its 25th anniversary.
"Monster Mash" by Bobby Pickett
This 1960s smash is timeless, much like Dracula himself. This catchy tune is a must-have for all your Halloween events, whether you're trick-or-treating or partying with some frightening Halloween punch.
"Somebody's Watching Me" by Rockwell
What's scarier than worrying that you're being watched while you're alone at home late at night? Evil omens, a bloody graveyard in the backyard, and eerie peeping tom vibes abound in the music video. For a dark, frightening holiday, eerie and spooky sensations are in order.
"This is Halloween" covered by Panic! At The Disco
As the residents of Halloween Town sing, our favorite "Pumpkin King," Jack Skellington, is unveiled. Brendon Urie's vocals in his cover of Citizens of Halloween's song are dark and mischievous.
"Thriller" by Michael Jackson
This pop song is crafted in a way that makes you feel like you're reading a novel. Close your eyes and be absorbed by this imagined "evil" beast that is trying to get you, with lyrics like "You hear the door slam and realize there's nowhere left to run, you feel the cold hand."