A New National Anthem Controversy?
March 2, 2018
The well-known National Anthem controversy, beginning in 2016 with Colin Kaepernick's refusal to stand during the anthem at an NFL game, has continued to be a hotly debated topic over the past two years. Everyone seems to have an opinion on it, and everyone seems to feel very passionately about it. But this article is not going to discuss politics at all. Rather, this is about the new National Anthem controversy that has swept the nation: Fergie's comically unique version of the song at the NBA All-Star Game.
For those of you who did not see the performance, let me start out by saying this: it was certainly not like any rendition of the anthem that you may have heard before. It seemed as though Fergie was off-key throughout the entire song, which made it difficult to watch but hard to look away. The "jazz-inspired" performance exploded all over social media; it was deemed as "painful to listen to," "terrible," and "bizarre." The former Black Eyed Peas member, however, did not anticipate the extreme backlash that she would receive. Releasing a statement the day after the game, she said,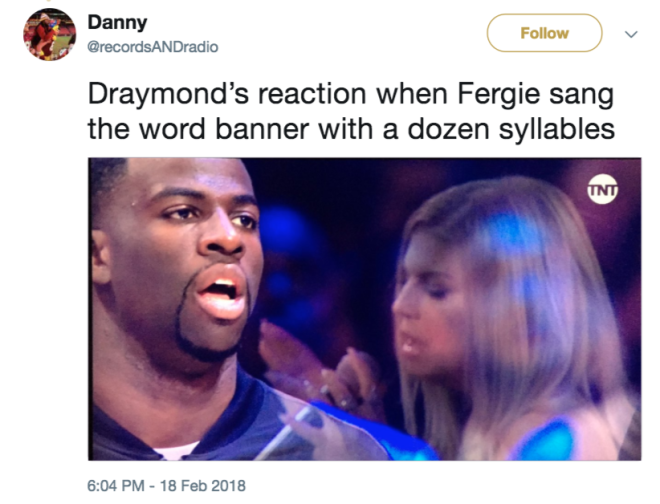 "I'm a risk taker artistically, but clearly this rendition didn't strike the intended tone. I love this country and honestly tried my best."
Some have passionately argued that Fergie's apology was not needed. From their perspective, her performance was, at its worst, a weird version of the anthem, rather than the disaster that much of the media made it out to be.
One of Fergie's biggest defenders happens to be her ex-husband, Josh Duhamel, who spoke about the incident on The Ellen Show. Though he noted that her performance was "probably not her best work," he also made it a point to compliment her "crazy talent."
And then there were the people who were appreciative of her performance, but for a different reason: for the comedy. In the video, there were several moments where celebrities in the stands and players on the court can be seen trying to suppress their laughter and smirks. Some of these famous faces include Jimmy Kimmel, Chance the Rapper, LeBron James, Steph Curry, Draymond Green, and Kevin Durant.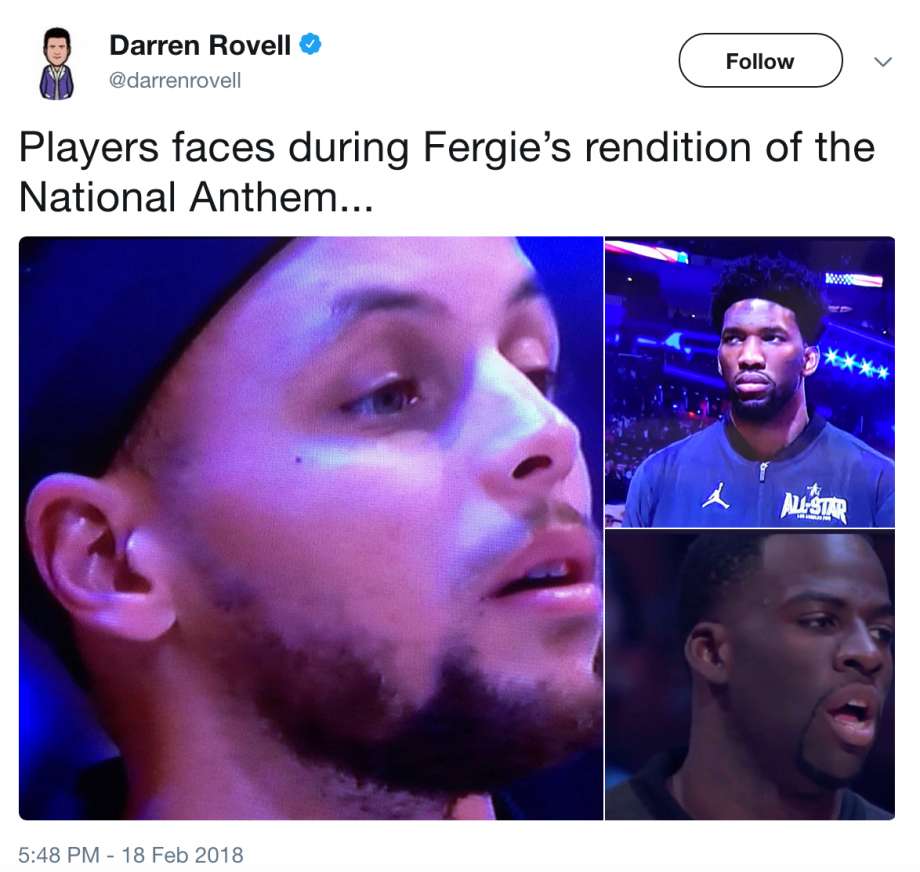 Within minutes, the internet had a field day with the rendition; memes exploded all over Twitter regarding both Fergie herself and the amused faces of the famous audience members.
So, while this may have not been the best version of the National Anthem ever performed, it seems as though we all got a bit of entertainment and conversation out of it.
For that, we should thank Fergie!
To watch Fergie sing the National Anthem, click the link below.