Inside Look on Miss Teen New Jersey Jr.'s Life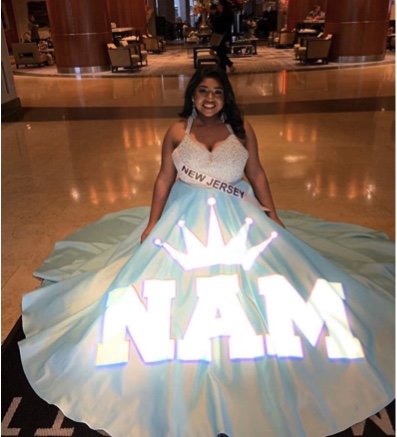 The long light blue gown, snug to her waist, the six-inch heels digging into the back of her ankles, the pins and hairspray plastering her hair into perfection, were all in preparation for the big night, the national pageant in Hollywood, California. 
Despite the overwhelming nervousness, she remained composed with her fingers delicately laced and hands resting in the front of her. Sweat began to form, however, it glistened on her skin, giving her the look of a Glossier model. As she stands in a uniform line with the 36 other girls, she quickly glances to her right and left. All of the girls look beautiful tonight, but hopefully, the judges see something in me that the others don't have. 
Tension filled the air as the lights dimmed, and the emcee tapped on the microphone. She clears her throat and pulls out her note cards from the pocket on her sparkling dress. Suspenseful drumming livens the ballroom, "The next National American Miss is…" 
Although she had not won that whimsical night, her motivation was unrelenting. This is the story of Andrea John, a small-town girl who has been competing for 10 years and has won the title of Miss Teen NJ Jr. three times. 
People from Colts Neck High School know Andrea as the smart, hard-working, and very Type-A student. Her friends would describe her as "determined and ambitious." However, many people don't know about her pageantry experiences, which is a huge component of her life. 
But before I get into all the juicy details about Andrea's pageant journey, let's learn a little about her day-to-day life:
Born in Long Branch, however, Andrea currently resides in Colts Neck, New Jersey with her mom, dad, and dog, named Bella. Evidenced by her Snapchat stories, she loves the company of her first-generation black Goldendoodle and even describes her by saying, "I have a diva." Andrea's daily schedule is jam-packed with school and extracurricular activities–there's always something that she's doing. Thursday is one of her busier days of the week:
Morning Routine: Wake up at 7:30 A.M., make coffee (she likes it black with no sugar), get ready, and drive to school with her mom and the company of Bella in the back seat

School: Trudging through a tough day, filled with 4 AP classes

After School: Start homework, go to her dance rehearsal at 5, and get home at 9

Night Routine: Shower, eat dinner, and finish homework (if she's lucky, she's done by 12-1 A.M. but

it usually ends up being 2-3 A.M.)

   

      
Sounds pretty stressful, huh? But her academic rigor is probably the most impressive–and strenuous. 
TThroughout high school, Andrea has taken challenging courses. This year she is her hardest year with 4 AP courses: Chemistry, Statistics, Language and Composition, and Calculus, along with History and Spanish 3. For senior year, she plans on continuing her studies with 4 more AP's: Physics, Environmental Science, Literature and Composition, and Calculus BC with Peer Leadership and two half-year courses: Marine Science and Financial Literacy. Although she has a hefty and challenging workload, she claims that "balancing my home and work life has taught me time management." Her dedication to school will serve her well in college, for she is planning on majoring in Broadcast Meteorology and minoring in Communications. 
Okay, so now that you know more about Andrea, here is the inside scoop on her pageant life:
"Something really important for me to express (it's my job) that we're not toddlers and tiaras," Andrea passionately expresses. Andrea started doing pageants when she was six years old. She would have started much earlier, but her parents rejected the letter from the "National American Miss" because she was too young.
As Andrea grew older, she realized that pageants weren't just fun; they gave her experiences that were valuable for her future. She explains that "We don't dress up two-year-olds like Barbies -kids 13 and under actually aren't allowed to wear makeup- and we are more than a beauty pageant" and it's not all about walking "on stage in beautiful gowns and high heels," which are common misconceptions in the pageant world. 
A lot of work goes into preparing for the speeches, interviews, and images; their responsibility is to inspire others and change the world. Extraordinary people are accomplished, giving, kind, worldly, and open-minded, and these are the qualities girls in pageants have. One of the most rewarding aspects of pageantry is that she gets to see the growth and accomplishments of girls–whether it be friends or role models, and it's so empowering. Andrea states, "The way I see it, this organization is one that proves that a woman can do anything a man can do, but better because we can do it in a dress and heels."
There are three main events in a pageant: the Interview, Personal Introduction, and Evening Wear. For the Personal Introduction, the girls prepare a 30-second speech, where they introduce themselves with their name, ambition, and hometown. For Evening Wear, Andrea breaks in her heels to ensure that they don't slide on stage. Only standing a total of five feet, Andrea has her gown altered. Lastly, she practices the short walking pattern she will do in front of the judges. The Interview cannot be prepared because the questions are entirely random. However, Andrea offers this advice: "All you can do is be yourself, don't be nervous, and do your best." Coordinating outfits and shoes are prepared for the various events so that the judges have a sense of the girls' styles. 
I asked Andrea, "what is your favorite pageant memory?" and this was her response:
"I can't possibly pick my favorite memory: there's so much. I know it should be one of my crowning moments, but all I remember are the backstage moments that made me laugh. Like after I won the state title of Miss New Jersey Jr. Teen, I headed to the national pageant in Hollywood, California. I remember being backstage for the Evening Wear Competition with girls from all over the country. They were doing some sort of TikTok dance to shake out their nerves or something, and because I don't have TikTok and don't know any of the dances, I did….the Chicken Dance (I regret nothing)."
Pros of pageantry:
Create memories and experiences 

Learn life-long skills: public speaking, interview, presentation, social, etc.
Cons:
Time-consuming 

Takes a lot of work to prepare for each pageant

It's disappointing to lose
Thoughts on losing: 
"That's what makes me want to come back. I've lost way more than I've won, but it's worth it to know what I'm capable of: the things I can accomplish when I put a lot into it."
Despite it being time-consuming and requiring so much preparation, Andrea is interested in doing pageants after high school. Since she has been doing it since she was only six years old, pageants have become a huge component of her life, and it would be incomplete without them. As she studies to become a meteorologist, she plans on continuing her journey. 
You can find Andrea John on Instagram: @thenamnjjrteen