QUARANTINE RECIPES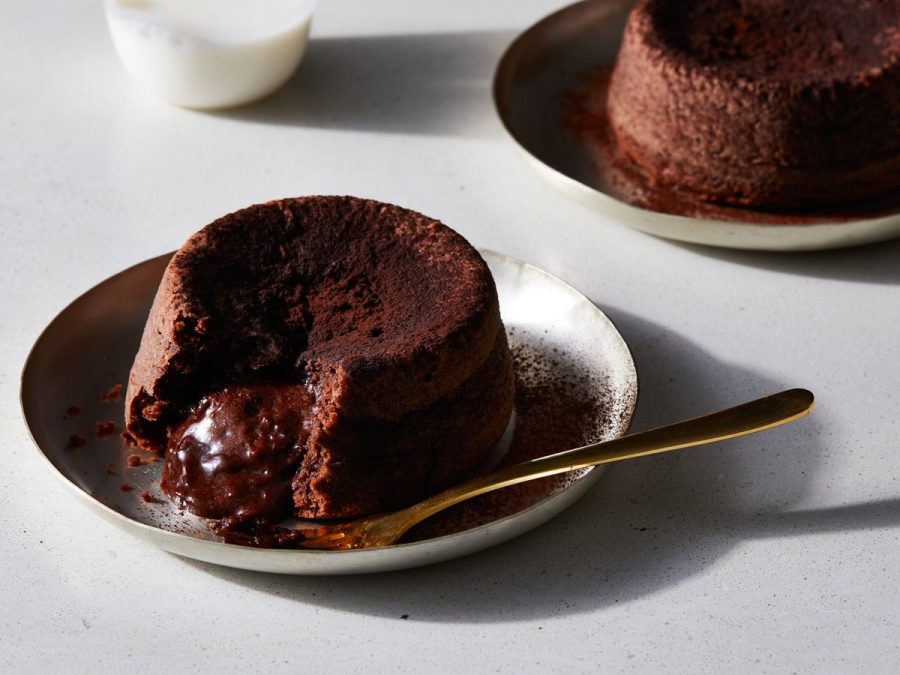 Samuel Nubile
May 18, 2020
CHOCOLATE LAVA CAKES
with Raspberries and Powdered Sugar
Ingredients:
3/4 cup (6 ounces) of semisweet chocolate, chips or chunks

1 stick butter, salted

*

1/4 cup all purpose flour

1/2 cup powdered confectioners sugar

1/8 tsp salt, coarse

2 eggs, large

2 egg yolks

**

Raspberries, powdered sugar, and ice cream for serving

***
Appliances:
An oven capable of reaching 425 degrees

Oven-safe baking sheet, aluminum
Procedure:
 Step 1: Preheat oven to 425 degrees.
Step 2: Melt the chocolate with the butter using either a microwave or a double-boiler. If using a double-boiler, be sure to ensure that the water never touches the bowl. If using a microwave, work in 30 second intervals, stirring after each interval.
Step 3: Combine the flour, salt, and powdered sugar in a stand mixer with a mixing attachment fitted.
Step 4: Crack 2 eggs into a bowl. Then, separate two additional egg yolks. Add to bowl. Discard whites.
Step 5: Add the melted chocolate and butter into the mixer. Stir on low for 30 seconds to combine.
Step 6: Add the eggs one at a time. Then, add egg yolks together.
Step 7: Allow to mix on low for 30 seconds. Be careful not to incorporate too much air into the batter. Do not let the batter mix faster than a 4 setting on the mixer.
Step 8: Grease porcelain ramekins or muffin trays using a non-stick spray or coating. Divide the batter evenly and fill the molds 3/4 of the way. Place on a baking sheet.
Step 9: Bake for 8-10 minutes. If the ramekins are larger, bake for 10-12 minutes. The top and outsides of the cake should be set, and the middle should be runny.
Step 10: Remove from oven once time expires. Allow to stand for one minute. Then, run a butter knife around the edges of the cake. Invert over a glass plate, removing the cake from the mold. Serve with powdered sugar, ice cream, and raspberries.
SESAME CHICKEN
with Jasmine Rice, Asian Veg, and Scallions
 Ingredients:
4 chicken breasts, trimmed, with rib meat removed

1 cup flour

1 cup cornstarch

1 cup ketchup

1/3 cup soy sauce, low sodium if preferred

1 tsp rice wine vinegar

*

2 cups jasmine rice

4 cups water

3 tbsp sesame oil, light

1 tsp sesame seeds, toasted

1 bundle scallions, chopped finely

2 tbsp brown sugar

1 tbsp raw honey, organic if preferred

3 eggs, large and white

Salt and pepper as required

OPTIONAL: 2 carrots, 1 crown of broccoli, 1 red onion

****

(See procedure if adding veggies)
 Appliances:
Gas or convection stovetop, 2 burners minimum
 Procedure:
 Step 1: Trim the chicken breasts to ensure that any excess fat and skin is removed. Then, slice vertically down the middle. Then, chop horizontally. Cut the chicken into 1 1/2 inch cubes. Reserve the chicken and place into a bowl or onto a plate. Set aside.
****If desired, prepare the veggies. Cut the carrots, scallions, and onion diagonally and evenly. Trim one crown of broccoli as well. Add the veggies into a roasting tray with 1 tablespoon of olive oil. Cook out, then add 1/2 cup of chicken broth. Cover and allow to steam until cooked, about 20 minutes.
Step 2: In two separate plates, prepare the egg wash and dredging components. On one plate, crack 3 eggs. Whisk to combine the white membrane with the yolk. On the other plate, combine the flour and cornstarch. Add a pinch of salt.
Step 3: Working in batches, first coat the chicken cubes in the egg. Then, roll around in the flour and cornstarch. Once the chicken cubes are coated, shake off the excess, and then place onto a separate sheet. Continue this process until all chicken is coated.
Step 4: Preheat the air fryer to 400 degrees. Working to accommodate the air fryer, cook the chicken cubes. Cook for 9 minutes, tossing halfway through. When the chicken is fully cooked, reserve it. Repeat this process until all chicken is cooked.
Step 5: While the chicken cooks, prepare the rice. Place the rice and the water into a saucepan. If less rice is desired, cook using a 1-2 ratio. This involves placing one cup of jasmine rice into two cups of cold water. Bring to a boil over a stovetop. The moment the rice boils, cover, reduce heat to medium low, and set a timer for 15 minutes. Do not stir rice.
Step 6: While both the rice and chicken cooks, prepare the sauce. Combine the ketchup, soy sauce, brown sugar, and honey. Add a pinch of pepper, then mix well. Once mixed, add the sesame oil. Stir well, making sure to incorporate all oil. Add sesame seeds, then stir once more. Set aside.
Step 7: When all chicken is cooked, preheat wok.*** Add the sauce and heat through. Then, add chicken to the wok. Toss to combine, then serve over jasmine rice. Top with scallions, cut thinly, and toasted sesame seeds.