Use of Technology for the Aviation Industry Recovery
These past several months has been a complete transition for the aviation industry due to the ongoing global pandemic. Many airlines had to ground their operations and limit passengers due to travel restrictions. Slowly, the airlines are recovering from this crisis by implementing various protocols that are guided by the CDC. This includes the presence of technology at the airport facilities in order to maintain the industry and make the travel smooth and safe for the passengers. An example is Automation, which is enabled by biometrics and contactless technologies. Through the use of smart technology, it delivers process and cost efficiencies. It enables better social distancing and passenger flow in a safe manner through airports without compromising processing times. 
"Biometrics and Contactless Technologies"
In Beijing, China, the airport has executed Smart Path technology; including the use of facial biometrics to deliver a 'walk-through' experience, passengers can simply use their face as their boarding pass.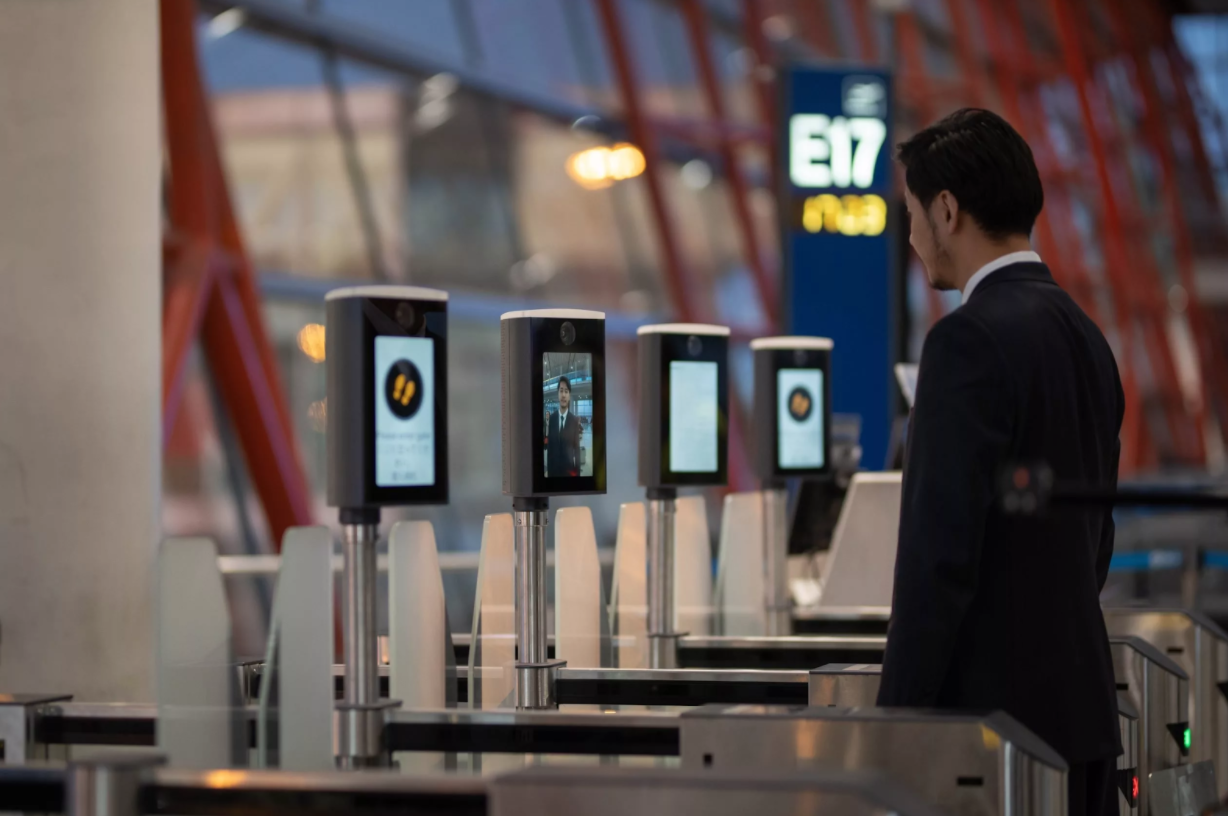 Picture Courtesy: Airport World
At Beijing Capital International Airport, a passenger is scanning his face through the Smart Path Technology. 
Beijing Capital International Airport (BCIA) has thoroughly automated their entire outbound passenger journey from check-in and baggage drop area through to immigration, security, and final boarding. Passengers are only accountable to enroll during the check-in. This eases out a passenger's journey through the airport in a seamless way. There is no need to show a passport or a boarding pass. This improves process efficiency reduces queuing times and enhances more social distancing for all passengers. This process totally reduces the risk of infection by removing the need to touch any airport equipment.
"Minding the Distance – Evolving Airport Operations in Response to COVID-19"
The COVID-19 outbreak is swiftly changing the processes and flows of airport operations and facilities. Moreover, they are coping with the economic and the airline revenue downfall due to the cause of this global pandemic. The main goal of the airport stakeholders are adapting to the changing regulations that are developed to protect the health and welfare of the airport/airline staff and travelers. Agility and flexibility are the significant standard qualities required for any operating system in order to help airports manage. 
Passenger flow management technologies such as SITA's AMS (Airport Management Solution) provide real-time passenger monitoring and actionable insights information. This provides accessibility for airports to know and manage passenger movement throughout the airport. This will more likely become a necessity to proactively manage a crowd density and social distancing during their daily operations. This will be effective for long-term planning as well. 
Utilizing this technology, like SITA's Information Display System, airports can send personalized travel texts to passengers' phones in order to notify them about tracking their process to the flight. Such as:
"Mr. Johnson, your boarding gate was thoroughly cleaned and disinfected 15 minutes before the boarding time." 
"Mrs. Kerry, your zone is now boarding at Gate 16A." 
This denoted level of personalized communication can guarantee an ease process for the passengers throughout their entire airport journey.
"Health ETA and APP – The key to Accelerating Travel During COVID-19 and Beyond"
Health Electronic Travel Authorization (ETA) allows vast federal governments around the world to receive the necessary information in order to help keep their country healthy and safe. Travelers are required to provide information regarding their health status. Eventually, they are informed of their health test's outcome in advance of travel;  this will assure whether the passengers are allowed to complete their journey before it begins. When they reach their final destination, travelers can focus on their trip during that time too since they can be contacted in case of any potential outbreaks or health concerns. 
For example, Advance Passenger Processing (APP) amplifies the ability to assess the risk, including health risks, and allow or deny at the point. When you are connected with the implementation of a Health ETA service, it enables real-time checks to be performed to confirm that each traveller has completed the required health checks and is eligible to travel. For travelers, it provides greater safety and surety of their travel and a smoother border processing experience. 
Source: https://www.aviation24.be/category/airports/beijing-airport-pek/