Why Dogs Are Amazing Pets!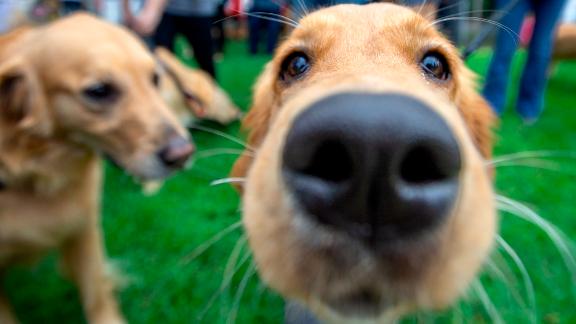 Our precious dogs give us so much in life, so I dedicate this essay to them! Having dogs around benefits us in a multitude of different areas, including health, safety, and happiness/mental state. When in ownership of a dog, you need to take care of their physical health. Helping your furry friend stay fit can also help yourself get some essential exercise. Little things like taking them for a walk, running around with them, playing fetch, and playing tug-of-war can help get a good balance of work-outs! According to writer, Kristen Sturt, "Studies show that having a canine companion is linked to lower blood pressure, reduced cholesterol, and decreased triglyceride levels, which contribute to better overall cardiovascular health and fewer heart attacks." If trained, many dogs can help people battle disease and injury. In that same article, "Some dogs have been trained to sniff out skin, kidney, bladder, and prostate cancer, among others. Service dogs are known to benefit people with everything from traumatic brain injury to autism to rheumatoid arthritis, increasing mobility and promoting independence." These amazing canines can play a significant role in their owner's lives by improving health, and helping to prevent and keep control of illnesses.
As it is well known, when having a dog constantly around the house, it provides us with a sense of safety and comfort. They not only improve our mental health by providing us with the knowledge of that extra shield of protection around the house, but our physical health as well. At the slightest noises, they bark, alarming you of someone or something that may be outside. As explained in the Benefits of Owning a Dog," Studies have shown that barking dogs help deter burglaries and other violent attacks. With heightened senses of hearing and smell, dogs can detect things you can't and alert you to possible danger." Dogs are often aware of the quitest things, so they can prepare themselves for if something bad were to happen. They will always put you first, giving you that sense of security.
Having a dog is scientifically proven to boost serotonin and dopamine levels, which are substances in our blood that make us feel happy! Being around these furry friends encourages behavior such as "playfulness, laughter, and exercise", which make us happier and more energized. When dogs are around, we often feel calm and relaxed. "They have the ability to increase levels of oxytocin in the brain, bringing you a state of calm." There are a variety of different kinds of service dogs that help humans with mental issues such as anxiety and depression. For example, a participant of the Warrior Canine Connection program who struggles with PTSD and depression reports that his support dog "is better than any drug [he] ever took. [He] didn't sleep for five years until this dog slept next to [him]." Without his support dog, this member of the study wouldn't be nearly as relaxed as he could be. This just goes to show how being around dogs can benefit our daily lives by making us relaxed and happy.
The dogs of our world are so beyond amazing, and can do so much for us without even realizing. I mean, literally, scientifically dogs make us better! I'm sure all dog owners know this, but if you or your family is considering rescuing or adopting these amazing animals, I strongly encourage you to do so! They'll change your life!
Sources:
"The 10 Health Benefits Of Dogs (And One Health Risk)". Huffpost, 2016,
https://www.huffpost.com/entry/the-10-health-benefits-of-dogs-and-one-health-risk_n_57dad1b8e4b04a1497b2f5a0?guccounter=1&guce_referrer=aHR0cHM6Ly93d3cuZ29vZ2xlLmNvbS8&guce_referrer_sig=AQAAALT6B2yUEG__MofX9Cl_e4qkI1CoL7FEUVkxJIQfz7pfSD5vQQDSiEvV9n_NlUIKNgsv63lhaizo4CYOeovCvO41KZrmDMILG4-vr6plQja4gMH0LOis2vmhuzpzLwwtO-JArjARES7HTdF0Lo0vavga_zdyCcwkk4MGeyLU9xsR. Accessed 23 Feb 2021.
"Benefits Of Owning A Dog – American Humane". American Humane, 2021, https://www.americanhumane.org/blog/benefits-of-owning-a-dog/?gclid=Cj0KCQiA962BBhCzARIsAIpWEL2otS3Wf4gBKIKZig7_Yx0DZkfHYhWFvnI006eNqXmRDM-9kf37EWIaAvGbEALw_wcB. Accessed 23 Feb 2021.
"The Security Benefits Of Having A Pet – Petsafe® UK". Intl.Petsafe.Net, 2021, https://intl.petsafe.net/en-gb/the-security-benefits-of-having-a-pet. Accessed 23 Feb 2021.