Outfit Ideas for this Fall Season!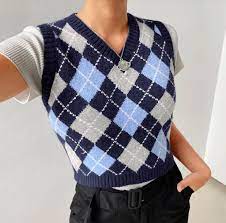 The fall season is filled with delightful weather (for the most part), delicious food, and of course, the aesthetic of it all. What better way to cherish this time of year than to try out some of these outfit ideas! Without further adieu, these are all inexpensive ways to make sure you go apple picking in style!
Sweater or sweatshirt with an oversized jacket over it (Either denim or leather; I have an oversized black denim jacket that I pair with so many things!)

Denim jacket and tank top (a basic idea that will keep you free from breaking the school dress code :))

Sweater vests and turtlenecks (This is one of my favorites and one of the most common of the fashion season). 

Tank tops over t-shirts (You can use a lacy or basic tank; this is the perfect classy and vintage outfit to show off a cute top that you still have from over the summer months!)

Long skirt or dress with sweater layering it

Zip-up hoodie and baby/graphic tee

Crewneck and tennis skirt (I always feel so classy but so comfortable when I wear this combination!) 

Checkered/patterned skirt with a long-sleeved top (You might think this is too fancy for school but I personally don't mind wearing skirts and they are so cute). 

Argyle sweater with either leggings/cute pants/skirts (Not specifically a sweater but an oversized, almost crewneck, sweater is both stylish and comfy!)

Baseball tee and cute pants of choice (I got a couple of tees with a "baseball" type short sleeve to them and I am honestly obsessed). 

Graphic tee and jeans (This is clearly a very basic idea that I don't need to tell you is a cute choice. However, there are numerous ways to turn this into an outfit with more depth :))

Patterned jeans (I have some with a swirl pattern and they are perfect when I don't have anything to wear).

Layer with a turtleneck/long-sleeved tee (fall weather sure can get chilly!)
Miscellaneous tips!  
Closet essentials! 

Boots (i.e aviator, Timberlands, gogo, even cowboy-esque! Whatever your aesthetic :))

Pants of multiple colors, patterns, textures that will be perfect for styling with different tops and ideas listed above.

Fall isn't fall without wearing a cute flannel, of course!

Statement or dainty jewelry (i.e necklaces/ring(s)/bracelets) that will pull your outfit all together! 

Short-sleeved polo shirt for layering under your outfits. 

Flare jeans/leggings (I love bringing back vintage trends! I don't have any of these, but I love them when I see them.)

Headbands (From personal experience, I know they are definitely inconvenient to wear with a mask but they are super preppy and tie outfits together when you don't know what to do with your hair). 

Hair ribbons (Another preppy idea when you don't know what to do with your hair. I never see another wear them and I wish they would because they are the cutest!)

Cardigans (An obvious fall choice; can be either cropped or oversized :))

Color combos! 

Black and beige

Green and orange

Black and brown

Green and gray

Burnt orange and black

Beige and white

Green and blue

Blue and orange

Red and brown

Beige and green

Black and blue
You can always turn random articles of clothing from your closet into a super cute outfit that you wouldn't have expected to go together. With a creative and confident mindset, you can wear whatever you feel comfortable in to enjoy this wonderful season!