Top 5 Ways to Keep Calm, Organized, and Sane During COVID-19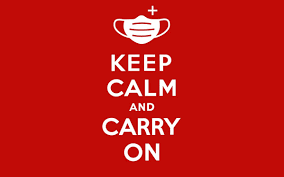 On March 11th, 2020, COVID-19 was officially declared a pandemic by the World Health Organization. I was in 8th Grade at Cedar Drive Middle School at the time.  Many people that I knew, including myself, were put into a panic when this was announced, and we were fearful of what was to come as cases and deaths skyrocketed. On March 13th, the Colts Neck School District was forced to shut down their schools including Cedar Drive due to COVID-19. My older brother Zach and I had been told by our parents that this was likely to happen, especially since the virus was starting to spread more rapidly. Once the schools were shut down, all of the students were sent home, and we all started the unique experience of virtual learning in a matter of a few days.
I was already uneasy with how COVID-19 was starting to spread more rapidly and become harder to contain, but now that we had to quarantine at home and couldn't leave unless necessary, I was, needless to say, a little freaked out. However, with the help and advice of my family and friends, I was able to establish some strategies to help me cope that I am still using today to get through this pandemic one day at a time. Let me share with you some of these strategies. 
Max Tapper's Top 5 Ways to Keep Calm, Organized, and Sane During COVID-19
Get Outside and Take a Walk
Sometimes, when we feel overwhelmed about all the things we have to do, such as schoolwork and chores, but stepping out of the house to get a little fresh air can do wonders. It has been proven that walking outside lowers your blood pressure, reduces your odds of a heart attack, and also lowers levels of depression. Therefore, just taking a 10-15 minute stroll will make you feel happier and more confident about what you have to do.
Another strategy to cope with the pressure of the crazy world we live in today is to simply pick a book of your interest to read. Research shows that reading helps reduce stress, and reading also helps you be able to sleep better at night, especially when you read before bed. Reading can also enhance your vocabulary, and fiction books enable you to empathize better in real life by letting you explore the character's lives and get inside their heads. 
It's good to have hobbies. And I don't just mean staring at the TV or playing video games. Some examples of new GOOD hobbies to have during the pandemic are painting, cooking/baking, or learning a new instrument, such as the piano. Studies show that hobbies encourage you to incorporate breaks from your normal routine, and are also a great stress reliever. So, if you want to decompress or just want to kill some time, getting a new hobby is a great idea. 
Service hours are a graduation requirement, but that doesn't mean you can't find joy in earning them. Research has proven that volunteering at local organizations helps one socialize and form bonds with others also involved in the organization. This is critical to making friendships that can last a lifetime if you keep volunteering regularly. Volunteering  also improves your self-esteem, and you will feel a sense of accomplishment and satisfaction knowing that you have helped at least one person who might not be as fortunate as you. That sensation feels really good, and it will make you want to keep coming back to volunteer, hopefully for many years to come.  
Spend Time with Those You Care About
It's important to remember that even on your worst days, you'll always have your family and friends on your side. It has been proven that if teens try to make time in their daily lives to spend with their parents, siblings, and relatives, their chances of developing depression or anxiety will lower significantly. Teens spending time with their families also greatly lowers their odds of abusing substances and becoming violent later in life. In addition, teens will learn valuable parenting skills to use when they have children of their own thanks to being around their family on a regular basis. The people that teens form friendships with can help educate them on how to drop unhealthy habits and change for the better.  Most importantly, teens meeting new people, especially those around their age, and starting friendships with them helps them feel more confident and feel that they truly have a purpose and belong in this world. 
Works Cited: