Rook Flavor Rankings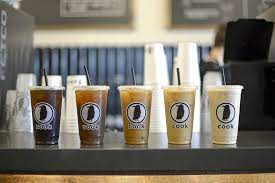 Rook Coffee is unlike any other coffee franchise in the country. While it can be very controversial to compare Rook Coffee to popular competitors such as Starbucks and Dunkin Donuts, no individual could deny the extravagance and creativity embedded in each cup of coffee. Various factors contribute to the Rook coffee experience, however, the most significant is the rotating feature of limited edition flavors, each one more innovative than the last. While all Rook coffee flavors are delicious in their own way, I have taken the liberty to create a ranked list of all thirteen flavors of cold brew from the past few years.
Apple Pie Style 
Apple Pie Style which is one of the two current limited-edition flavors is loved by many, however, I am not one of those admirers. I love cold brew, and I love apple pie, so it would be assumed that I love apple pie cold brew, yet something about the mix does not sit right with me, hence, the last-place ranking.
Traditional Style 
Traditional Style is offered for customers who seek a caffeine boost, but not much else. Traditional Style Cold Brew is still better than all cold brews offered by other brands, yet Rook has so many better options available at all times. 
Strawberry Mocha Style
Strawberry Mocha is a try once type of flavor, in which it tastes good, but I probably would not order it ever again. The flavor resembles more of a strawberry milkshake half contaminated with coffee than a cold brew, which is appealing to some, but for me, is not my cup of tea. 
Coconut Mocha Style
While I usually take my cold brew with coconut milk, for some reason coconut mocha style does not make the mark for me. Not to say this flavor is bad, but I simply prefer the original Mocha over Coconut Mocha nine times out of ten. 
Mocha Style
Mocha style is nothing groundbreaking, but it is consistent and always hits the spot for a quick trip to Rook before school or work. Offered year-round, I can always rely on Mocha as a satisfying reliable flavor, but otherwise, it is nothing exceptional. 
Mocha Mint Style
Rook's winter holiday special might surprise many due to its low ranking, however, it can be explained in which this flavor is only offered from December-January. Therefore, it is often very cold during these months and for me, a cold mint flavor is never my first choice in thirty-degree weather. 
Toffee Style
Toffee Style is just okay, whenever I order it I always think that it is good, but not great like the other six cold brews in front of it. Nonetheless, it is still delicious, but would probably be much better as a hot flavor instead!
Maple New Orleans Style
Maple New Orleans Style is the turning point in flavors from decent, to jaw-dropping. This limited edition New Orleans flavor shares the richness of classic New Orleans, but also adds the flavor of Maple which is very comforting especially in the cold weather (when this flavor is released). 
Cinnamon Vanilla Style
A summertime classic, cinnamon vanilla is very consistent in delivering a subtle but delicious flavor. The only reason Cinnamon Vanilla is not ranked higher is that it occasionally lacks the bold coffee flavor many of Rook's flavors have, however, it is still one of my favorites!
New Orleans Style
Nothing can compete with the classics! Rook's New Orleans might be the safe choice, but there is a good reason for this style's popularity. Nowhere on the planet is there a coffee as rich and delicious as Rook's New Orleans style, that is, except for rankings 1, 2, and 3….
Pumpkin Style
As dramatic as it may sound, part of the reason fall is my favorite season is because of Rook's Pumpkin Style Cold Brew. This flavor is delicious in every way, with a perfect balance of spice, pumpkin, and coffee, and is consistent every time I order it. 
Vanilla Spice Style
Vanilla Spice is one of the most delicious Rook Coffee flavors they have ever released. It shares a similar flavor to Cinnamon Vanilla, yet it maintains a strong sense of coffee while highlighting a vanilla flavor all at once!
Smores Style
Smores Style Rook is the most perfect cup of coffee I have ever tasted. Rook's ability to encompass the individual flavors of marshmallows, graham crackers, and chocolate individually but also simultaneously seems impossible, yet they found a way to do it. I urge everyone and anyone (unless you have a gluten intolerance) to try the Smores cold brew when it is released again, I promise, you will not regret it!