Red (Taylor's Version): The Ethics and Its Impact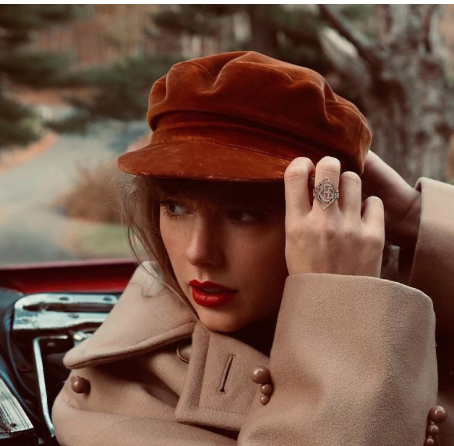 Recently, on November 12th, Taylor Swift released her newest album, Red (Taylor's Version). The album has 30 songs, including re-recordings of Red's original 16 songs as well as 14 extra tracks. This included many of her hit songs such as I Knew You Were Trouble, 22, and Are Never Getting Back Together. Swift's "vault" has nine more tracks that were written for the album but didn't make the final cut. These included collaborations with artists like Ed Sheeran and Phoebe Bridgers. 
You may be thinking: Didn't that album come out more than 10 years ago? Why would Taylor Swift want to start these songs all over again? This is all for legal purposes and for Taylor's redemption of her musical past and career. Swift's quest to reclaim ownership of her back catalog, which Scooter Braun's Ithaca Holdings (private-equity group of Big Machine Records) controversially bought in 2019 for $300 million, is now on its second re-recorded album, Red (Taylor's Version). Swift was adamantly opposed to the deal with Scooter, which she called her "worst-case scenario" at the time, accusing Braun of "bullying" and seeking to "dismantle" her "musical legacy." The catalog was eventually sold without Swift's knowledge or approval, according to Taylor. Swift is now re-recording most of her songs (from her debut album "Taylor Swift" which came out in 2006 to "Reputation" from 2017) in their entirety after numerous failed attempts to re-acquire the rights. Taylor started these recordings with her second album, Fearless, which was originally released in 2008 and was rightfully given back to her in April. 
Red (Taylor's Version) shot to the top of the US iTunes album chart within hours of its release, and individual lyric videos for several of the songs—including a 10-minute version of "All Too Well"—attracted hundreds of thousands of views on YouTube. The song was originally released on the original album in 2012 and was a hearty five minutes long. Due to this opportunity of re-releasing, Taylor released the original uncut rendition of this tear-wrenching song. This was accompanied by a short film in honor of the song's premise. The film debuted on November 12th at 7:00 pm and starred "Stranger Things" Sadie Sink, Dylan O'Brien (most popular for starring in "Maze Runner"), and even Taylor Swift herself. It was shot on 35mm film by cinematographer Rina Yang and was 14 minutes long. 
Taylor followed these recordings with a generous amount of content, which was a lot to take in for many Swifties. She started off the celebration by going onto Late Night with Seth Myers, then The Tonight Show Starring Jimmy Fallon. The next morning was the premiere of the All Too Well short film, as mentioned previously. Taylor in inclusion released a music video on November 15th, directed by herself, and "Gossip Girl" star Blake Lively for the vault song "I Bet You Think About Me." To add to this very exciting list of releases, Taylor issued on November 17th the "All Too Well (Sad Girl Autumn Version) – Recorded at Long Pond Studios" single (as if the song about heartbreak can get even more heartbreaking). If that wasn't enough revelry, Taylor even was a musical guest on Saturday Night Live with host Jonathan Majors, where she sang the 10-minute-long song and was even in a sketch alongside Pete Davidson. Fans could now also order Swift's favorite drink, a grande caramel nonfat latte, in the company's seasonal red cups by saying "Taylor's Latte" or "Taylor's Version," according to a promotion launched by Starbucks on Friday and is a limited time offer throughout the week. 
In summary, Taylor Swift has had a busy year and a busy month for that matter. These rerecordings have received much-deserved recognition and praise, even from Elmo who tweeted, "Elmo thinks it's a great day to be Red. Elmo loves you Ms. @taylorswift13!" There is no better time to curl up, drink a latte, and enjoy listening to Red, now owned by Taylor Swift!
Credits: 
https://www.forbes.com/sites/roberthart/2021/11/12/taylor-swifts-red-taylors-version-tops-itunes-chart-hours-after-release/?sh=6eb7ce45ff68