Top 5 Ways to Help the Less Fortunate During Winter Break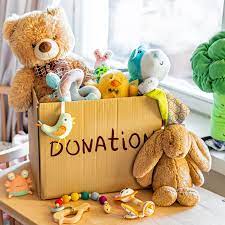 It's the holidays, and as usual, everyone is in good spirits and students are strongly anticipating winter break. Winter break is a great time for students to relax, take a break from their schoolwork, and spend time with their family and friends. However, the holidays are a time to take a minute to think about those who are less fortunate. Since students have so much free time on their hands during winter break, they should consider making some time to help those who sadly might not be having as merry of a Christmas as them. I'm Max Tapper, and I'm here to give you, my fellow students, some pointers on how you can help the less fortunate this coming Winter Break. 
Max Tapper's Top 5 Ways to Help the Less Fortunate During Winter Break
 Donate Some Old Toys or Games You Don't Use Anymore 
       Have any old action figures lying around that are in fairly good condition? How about a board game that you loved playing on game night with your family? If you have any toys/games that you have little to no interest in keeping, spread the joy that they gave you in your youth by donating them to a local shelter or nonprofit. Getting rid of old toys/games also helps keep you organized, and you will get a very warm, satisfying feeling from letting someone who is going through troubling times have something that mattered to you as a child. 
 Start a Local Food Drive in Your Neighborhood
In the weeks leading up to Christmas and New Years, encourage your family, friends, and neighbors to start a food drive in your own neighborhood. It's important that your family, friends, and neighborhood are aware that the food they are donating is going to a good cause. Before setting up a food drive in your neighborhood, make sure you contact your local food bank ahead of time so that they can help your food drive be a success. 
 Pack Stockings To Pass Out to The Homeless
       Ask your family to take you or (if you're old enough) drive yourself to your local Walmart or Target to pick up some stockings. While you're shopping for stockings, purchase some fun and practical items to put in the stockings. Some ideas for fun and practical items include new gloves or socks, toothbrushes, toothpaste, and mini-M&M fans. After packing the stockings, keep them in a safe area until you go to your local homeless shelter to pass them out. 
 Volunteer at Your Local Food Bank or Pantry
Since you probably have a good amount of down time this winter break, contact your local food bank or local pantry to see if you can volunteer there for a few hours. Volunteering at your local food bank/pantry is completely free, and the feeling of helping those in need is sure to grow your heart three sizes! 
Start an Online Fundraiser 
If you know someone who is facing hunger or poverty, you can start a fundraiser for them online by using a site such as GoFundMe. By starting an online fundraiser, you can inspire your family and friends to join you in funding those who are hungry and/or poor. Or, if you are unable to start an online fundraiser, you can always choose Feeding America as your charity on eBay or Amazon Smile. Either way, you are still making a difference in the lives of those who are less fortunate, and you should feel good about that. 
Works Cited: