"Exit the Body"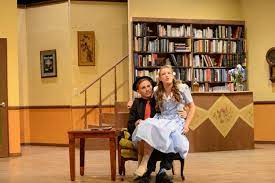 In the world of theatre, COVID has been a major block in the road. Luckily, the Cougar Theatre Company is returning to normalcy with its production of "Exit the Body" by Fred Carmichael. This production was put on just over a week ago, and  follows Crane Hammond, a murder mystery writer from NYC, and her secretary, Kate Bixley. The duo rents a house in New England for a month to get a break from the city, and have a fresh new environment to work in. They head up to a little town called Birchville, where Crane's best friend, Lillian, happens to be staying. While there, Crane and Kate find themselves in a mystery of their own in an attempt to find some missing diamonds that were left in their rented home by its previous, now deceased owner. In the act of settling into Birchville and beginning to search for the diamonds, Crane and Kate meet many interesting figures, including an innocent country maid, a real estate agent, and a man who just can't seem to remember who he is. They spend the majority of the show lying about identities, putting on fake smiles for the townspeople, and finding bodies in closets. Ultimately, this show is a farce filled with excitement and humor that leaves audiences wondering what could possibly happen next.
     One of the main pieces that went into this show's comedic value was the timing. There was physical humor embedded into the show, including Crane's faints and the running sequence between characters in Act Three. The show often utilized suspended reality, which added to the humor of it, since audiences realized how ridiculous of a situation the main characters were being put into. Each character had its own, unique play stereotype that viewers were all too familiar with. For example, Kate was the sarcastic best friend, while Jenny was the sweet, country maid who seemed too good to be true. 
    As for the technical aspects of the show, auditions were held in late September, and the cast list was released in early October. The cast rehearsed about three times a week after school to perfect the production, and occasionally on Saturdays as well. Once tech week arrived, they had three dress rehearsals from 3-8 as they tied up any loose ends and made sure the show was the best it could be. All rehearsals were done with masks except the last dress rehearsal, and the shows were able to be performed without a mask so that audiences could really see the facial expressions of each cast member. 
     When interviewing cast members from the show, they felt very positively about being a part of this production, and saw multiple benefits to getting back to performing after a year and a half in quarantine. Gianna Canova, a sophomore who played Lillian Seymour, explained that she "loved meeting new friends, and being a part of the theater environment again, since there hasn't been live theater since pre-Covid!". Being a part of the cast as well by playing Crane Hammond, I have to agree with Gianna. It was so refreshing to perform on stage again, and be a part of such a special production. Although most of the cast didn't know each other at first, we all became friends by the end of the show, and made memories we could've never imagined making. Also, it was so interesting to see each person really transform into their character, and how their personalities mirrored the ones of the character they were portraying. 
     Besides the actual acting portion, there were many other aspects that went into making this show a reality. Our student producer, Abbi Greene, worked hard to gain publicity for the show, and advertise it with posters around the school. Also, a handful of students dedicated their time to work on designing and painting the set for the play, as well as staying backstage during the show to make sure everything was running smoothly. Other students sold tickets and candy during the show, and even worked on the lighting and sound effects so that the actors could perform in a spotless environment. And in addition to all of that, our director, Mrs. Alana Herron,  worked effortlessly to make the show as amazing as it could be and push each student to "the next level". Though the actors worked hard to put on this production, there were many people working behind the scenes who should be recognized for their dedication. 
    Now that "Exit the Body" has finished its run in CNHS, the Cougar Theatre Company is jumping right back into things with auditions for its spring musical, "Bye Bye Birdie." Callbacks and casting haven't happened for this show yet, but I'm personally excited to see what CTC does next!