Max Tapper's Top 5 Ways to Improve Your Study Habits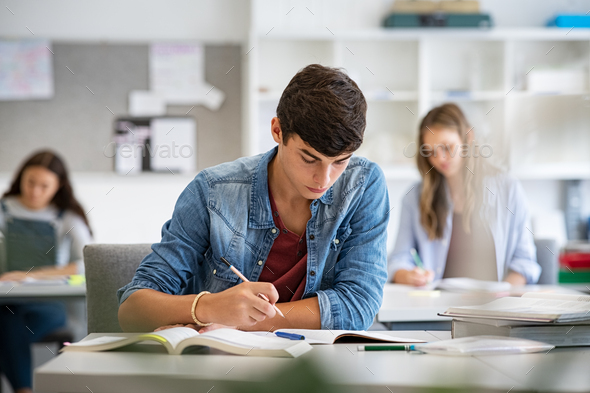 High school is a meaningful time in one's life. On one hand, high school can be very exciting and fun, with new opportunities such as clubs and sports teams. On the other hand, high school is more demanding in terms of academics, as students are faced with more quizzes, tests, projects, and also the SATs. Consequently, studying is a necessity to one's success. Many students tend to struggle with studying effectively and managing their time appropriately, but don't fret. I'm Max Tapper, and I'm here to give you, my fellow freshmen, sophomores, juniors, and seniors, some tips on how you can improve your study habits so that you can ensure your success and survive high school and beyond. 
Max Tapper's Top 5 Ways to Improve Your Study Habits 
 Pick an Area To Study In That Works For You and Stick With It
You should try and pick an area to study that you feel you will feel most productive in. Personally, I find that I am most productive in an area that is secluded, quiet, and minimal in distracting objects/features. It's also a good idea to be consistent in the area in which you study, especially when you are under pressure by an assignment/upcoming quiz or test. Being consistent in the area in which you study helps you to be more organized and focused on the task at hand. 
 Write Down a Schedule For you To Study and Incorporate Breaks
If you are studying or even just doing your homework, it is wise to take a minute beforehand to write down a schedule stating how long you will spend on each subject. Once you complete a set amount of time for a certain subject, you can check that subject off your list, which will give you a sense of accomplishment before you start your other assignments. From my experience, I strongly recommend incorporating relatively brief, 5-8 breaks in your schedule. That way, you will be able to retain information better for different classes in an organized manner. 
 Exercise Before Hitting the Books
Depending on the weather and how you're feeling, consider doing a 20-minute workout in your home or going out for a speed-walk around your neighborhood. Exercising before studying fights fatigue, but also revitalizes brain function, which improves one's cognitive performance and memory. In addition, exercising before studying releases endorphins, improving one's mood and lowering overall stress level. This will ultimately help you be more focused and productive while studying.
 Imagine If You Were the Teacher
Researchers have found that if students are given the expectation that they will have to teach someone else what they are studying, they are more likely to retain the information they are learning. It has also been proven that when students imagine themselves as the ''teacher,'' they will be more engaged in the material and will be more keen to formulate methods of organization and recall, prompting them to do better on tests.
 Try to Color-Code Your Notes for your Different Classes
Organization is a key factor to effective studying, and writing in different colors or using different-colored books for different classes can be a fun and very helpful way to keep organized and focused on studying. For example, for history, you can use a red spiral notebook for notes, and you can underline key people and events in red as well. As for science class, you can use a green spiral notebook, and you can underline important vocabulary and equations in green as well. By doing this, you will be more engaged while studying and more likely to recall the material when the time comes for a quiz or test. 
Works Cited: