Women's Singles Figure Skating Highlights of the Beijing 2022 Olympics
This year at the 2022 Beijing Winter Olympics, the ladies' figure skating programs were held on February 15 and February 17. As more women— especially Russian women— are able to land complex jumps such as the triple axel and quads, the standard for the future of women's figure skating is incredibly high. With controversy from a recent doping scandal and drama from the Russian Olympic Committee (ROC), here are the highlights and results of the women's event.
Kaori Sakamoto – Japan
The 2018 Four Continents champion and two-time Japanese national silver medalist, Kaori Sakamoto is the fourth Japanese women's singles skater to win a medal at the Olympics. She is also the first skater to win an Olympic medal since Mao Asada at the 2010 Vancouver Games. Not having a triple axel or quads like her Russian competitors, Sakamoto opened her short program with a double axel and landed all three triple jumps. Missing the 80 point mark, Sakamoto had a short program score of 79.84, remaining in 3rd place. During her free skate, Kaori Sakamoto had a clean program once again, landing all of her technical elements and beating her personal best with a score of 153.29. Her total combined score was 233.13, winning the bronze medal.
Kamila Valieva – ROC
Being one of the youngest athletes at the 2022 Games this year, 15-year-old Kamila Valieva has been the talk of the Olympics. She was considered the Olympic favorite, the first woman to ever land a quad at the Olympics after the Team Event, and was anticipated to win the gold medal during the women's singles event. However, on February 11, it was announced that Valieva tested positive for a banned drug called trimetazidine, along with two other legal heart drugs. Trimetazidine (TMZ) is typically used for older patients with angina and other heart-related issues. TMZ increases blood flow to the heart which gives Valieva an immediate advantage because it bolsters her stamina. When her test results were reported to the International Olympic Committee (IOC), the IOC handed the situation to the Court of Arbitration for Sport (CAS). Though Valieva was likely to be suspended from the ladies' event, the CAS appealed the decision and still allowed her to compete because she is still a minor. People suspect that it was Eteri Tutberidze, Valieva's coach, who forced her to take TMZ as Tutberidze is known for her harsh training and physically burning out her students. It was also stated that since Valieva would be able to compete in the women's event she would not receive a medal if she made it on the podium. This caused a rise in controversy because many people believed Valieva should be disqualified. During the short program, Kamila Valieva faltered on her triple axel landing but had won the short program with a score of 82.16. In the free skate, she stumbled and fell at least four times, receiving deductions in her final score. She was seen weeping as she left the ice and faced the harsh criticism of her infamous coach, Eteri Tutberidze, who is also the coach of Valieva's teammates, Anna Shcherbakova and Aleksandra Trusova. Kamila Valieva had a free skate score of 141.93 and a total combined score of 224.09, not making it into the top 3, remaining in 4th place. The amount of pressure this 15-year-old faced is saddening and to see her break apart at the Olympics leaves her coach, Eteri Tutberidze accountable for the abuse this young athlete encountered.
Aleksandra Trusova – ROC
17-year-old Aleksandra Trusova is the first and only current female figure skater competing with four different quads: flip, lutz, salchow, and toe loop. She is also a two-time European bronze medalist, four-time Russian national medalist, and 2021 World bronze medalist. During her short program, Trusova was in 4th place after falling from her triple axel and getting an edge call from her triple flip, resulting in a score of 74.60. Skating to the end credits of the Cruella movie in her free skate, Aleksandra Trusova became the first woman to land all five quadruple jumps at the Olympics. Her technical element score was 106.16 while her program component score was 70.97. She had a total score of 177.13 and a total combined score of 251.73. Earning the silver medal, Trusova was found in tears, yelling at one of her coaches, Sergei Dudakov, that she was "the only one without a gold medal" and "hated figure skating." While some may perceive Trusova as a brat and portraying poor sportsmanship, she is the only one out of her teammates Anna Shcherbkova and Kamila Valieva who has not won a major gold medal title. Additionally, most figure skaters who train under Eteri Tutberidze are normally never to compete in an Olympic event again due to physical burnout and early retirement. And because of young skaters like Kamila Valieva, girls can practically be replaced in an instant, meaning Trusova is running out of time as possible retirement awaits her. In an interview, she exclaimed that she thought landing extremely difficult technical elements would get her gold. However, it seems that no matter what Aleksandra Trusova does, her skills, unfortunately, will never be enough.
Anna Shcherbakova – ROC
The world reigning champion and three-time Russian national champion, Anna Shcherbakova won the gold medal and allowed the Olympic Medal Ceremony to occur. In her short program, she was the only Russian to not attempt a triple axel and landed a clean double axel instead. She also landed both of her triple jumps, earning full points, and had a score of 80.20, putting her in 2nd place, behind Kamila Valieva. In her free skate, Shcherbakova landed both of her quads, a lutz and flip, as well as skating a clean program. Though her technical score for the free skate was 100.49, lower than Aleksandra Trusova's score, she had a higher program component score which was 75.26. Shcherbakova's free skate score was 175.75 and had a total combined score of 255.95, winning the event. In the athlete's waiting room, vivid shock was seen on Anna Shcherbakova's face as she saw Kamila Valieva miserably fail her free program. Shcherbakova was comforted with a hug from competitor Kaori Sakamoto as it was declared, Anna Shcherbakova had won the gold medal. As the occasion should be joyous, no coach or person was present to congratulate nor accompany her win. The scene was utterly heartbreaking as the Olympic champion stood alone, unsure of what to do next as her coaches were too busy comforting Kamila Valieva and Aleksandra Trusova. During the Olympic Press Conference, Anna Shcherbakova was asked about how she felt about winning the games. She responded with how she was preparing for this moment every day of her life, but after winning the medal, she still feels some emptiness inside. This year's Beijing 2022 Games for the women's singles event can surely be seen as disastrous and full of corruption as there is pure grief for the girls of the ROC and the other competitors who suffered from the unfair doping scandal and emotional distress.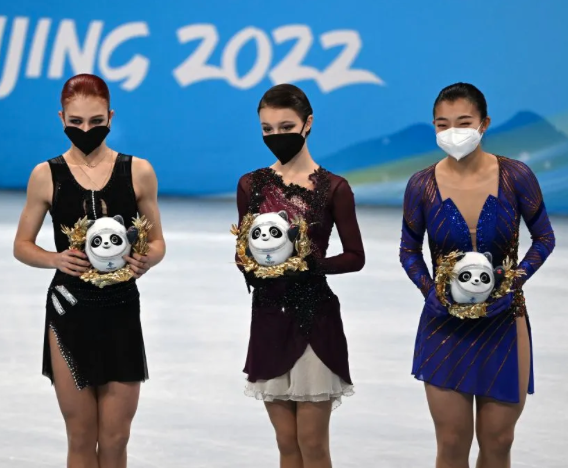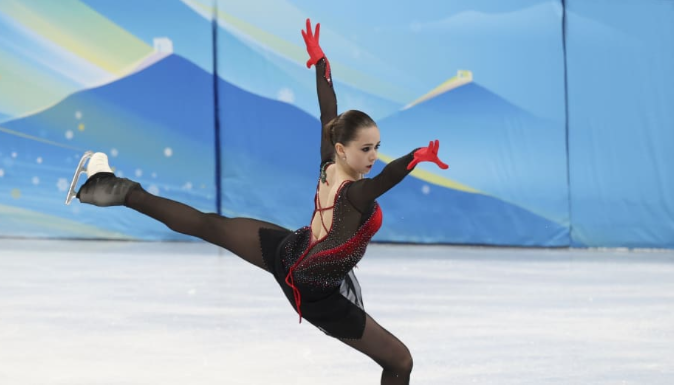 Top: winners
middle: Kamila Valieva
bottom: Anna Shcherbakova