Don't Tell Mother!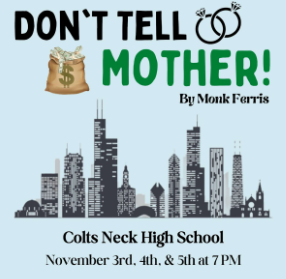 This fall, the Cougar Theater Company is hard at work putting together their fall play, "Don't Tell Mother" by Monk Ferris. In this comedy, librarian Cinnamon Schmidt (played by Carly Cavanaugh) finds herself witness to a bank robbery on the night she is to have dinner with her fiance Hobart Berezlheimer (played by Josh Ricatti), and his mother (played by Jessica Terlato). She confides in her best friend and neighbor Deedee Malone (played by Anastasiya Vasilenko), daring not to tell her mother (played by Alex Risi). Chaos ensues with the arrival of federal agent Joe Shimko (played by Aidan Gardner), unbeknownst to them, there to merely make a tax evasion bust. This play later turns into a game of mistaken identity, as the actual bank robber (played by Saverio Renda) and his girlfriend (played by Reese Figueiredo) appear at the Schmidt apartment. Not to mention a monster vacuum cleaner attacking everyone within range amidst this disarray. Featuring a radio announcer and news reporter at the start of the show (played by Iyun Franklyn-Ayeni and Ria Karam respectively), this show starts and ends with bewilderment and excitement among each character. Who is the true criminal? Is everyone who they really say they are? And whose gun is really out of bullets? 
In the rehearsal process, each actor has been giving it their all in order to make this show a success, under the direction of Alana Herron. Brainstorming and interpreting the script is a challenge, but fulfilling when done right. A fascinating plot like this one couldn't be possible without a dedicated cast and crew! The Schmidt apartment set for this comedy has also been designed by Mr. Niemierowski and the hard-working CNHS tech crew. In this particular story, a great set is crucial to move the story forward and create hilarious sight gags. All hands are involved in order to produce physical stunts, including the unexpected ending of the play! If you are interested in a mystery-esque plot, uproarious dialogue, and enticing action, this is the show for you!
Performances for "Don't Tell Mother!" are on November 3rd, 4th, and 5th at 7:00 pm in the Colts Neck High School auditorium. General admission tickets will be available at the door prior to the performance for $10 for each ticket.