Asia's Underdogs During the Qatar 2022 World Cup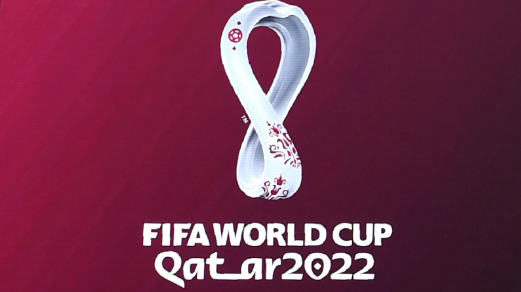 In the 2022 World Cup in Doha, Qatar, there were shocking results as the underdog's of Asia had created massive upsets. This year 6 countries represented Asia for the FIFA World Cup: the host, Qatar, Saudi Arabia, Iran, South Korea, Japan, and Australia. Creating new soccer achievements for their countries, here are highlights from the Asian teams.
Qatar
This year, Qatar was placed in Group A which consisted of Netherlands, Senegal, and Ecuador. Qatar made their FIFA World Cup debut in their home country. Unfortunately, they lost all 3 games, the scores being 2-0 against Ecuador, 1-3 against Senegal, and 2-0 against Netherlands, being the first country eliminated at the World Cup. Despite being eliminated early into the tournament, they had achieved their World Cup debut.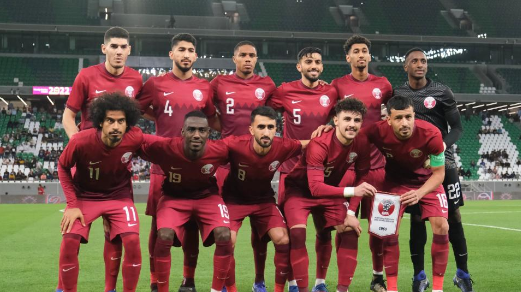 Saudi Arabia
Saudi Arabia was placed in Group C which consisted of Argentina, Poland, and Mexico. Going into the World Cup with low expectations, Saudi Arabia's victory over Argentina is said to be one of the greatest upsets in World Cup history. Saudi Arabia won 2-1, players Saleh Al-Shehri and Salem Al Dawsari, scoring both goals during the second half of the match. However, the country was eliminated after losing to Poland (2-0) and Mexico (1-2). Nonetheless, Saudi Arabia created history as they had defeated one of the highest ranked countries in the world for the World Cup.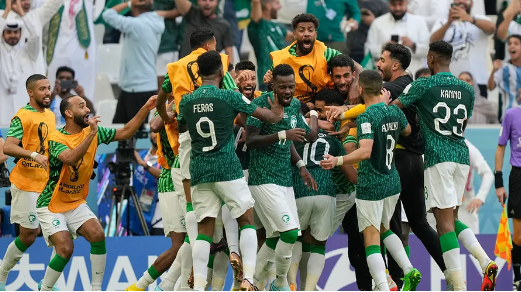 Iran
Iran was placed in Group B which consisted of England, Wales, and the U.S.A. With political controversy engulfing the country, Iran started off the World Cup with a silent national anthem. Not a single player nor protestor sang the anthem before Iran's match against England. It was a symbolic movement showing that the players were against the country's corrupt and cruel government. After they lost the match 6-2, news reports revealed that the players were threatened that their families would be imprisoned and tortured if they did not sing the national anthem or protest against the Iranian government going forward into the World Cup. On November 25, Iran beat Wales 2-0, there were tensions between the Iranian government supporters and protesters against the government. Some protestors tried to bring and wave pre-revolution Iranian flags, but they were all quickly confiscated by the Qatari security. Moving forward, the knockout match between the U.S. and Iran would determine who would make it to round 16. Unfortunately, Iran suffered defeat as the U.S. won 1-0 which caused them to go home. However, there was another strike of controversy as it was reported Mehran Samak, an anti-government protester was murdered for celebrating Iran's loss against the U.S. Though the Iranian police denied he was killed by authorities, it is highly speculated that was the cause of his death.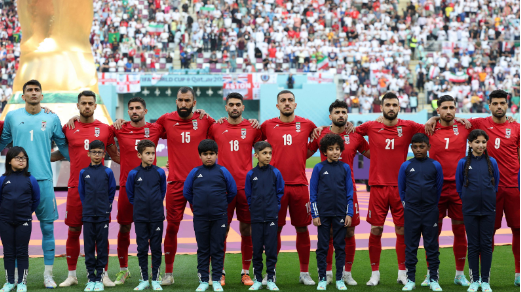 South Korea
South Korea was placed in Group H which consisted of Portugal, Uruguay, and Ghana. With their captain Heung-min Son injured with an orbital fracture by his left eye, fans were unsure of the fate of South Korea's performance as Son is an essential player, being one of the best players in the Premier League and having many accomplishments as a Korean and Asian athlete. Nonetheless, it was confirmed Heung-min Son would play and many would recognize him as the player with a black mask who looks like a superhero. On November 24, South Korea played against Uruguay and tied 0-0. Moving onto the next round, South Korea lost to Ghana 2-3, but had a South Korean record broken by player number 9, Gue Sung Cho who scored two goals within 7 minutes. Coincidentally, Cho went viral for his looks after being substituted in the Uruguay game. Shockingly, he went from 20,000 to 2.1 million followers on Instagram. Additionally, it was reported that he had to shut his phone off because he was getting excessive amounts of marriage proposals from fans. Moving on, South Korea made it to the knockout stage against Portugal with high risks because if they lost this match, they would go home. However, beating the odds, South Korea won 2-1, being another great upset for the Portuguese fans. Heung-min Son came in with a great assist, running about 80 meters before passing to Hee-chan Hwang who scored the winning goal. Son bursted out into tears on the field as South Korea's fate led them to round 16. This is the first time South Korea had been to round 16 in 12 years since the 2010 South Africa World Cup. However, against Brazil (ranked no. 1 in the world), South Korea suffered a serious defeat (1-4) as Brazil scored 4 goals in the first half of the match. Despite the loss, South Korea had great achievements, beating the odds.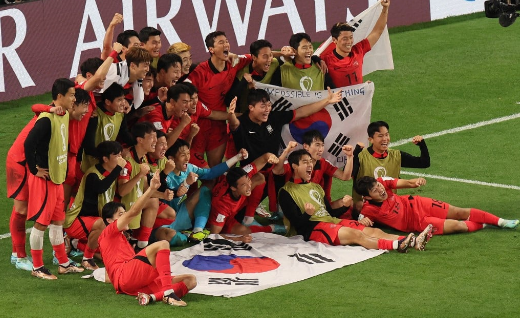 Japan
Being another historic Asian team, Japan was placed in Group H which consisted of Germany, Spain, and Costa Rica. In the first round, there was an upset against Germany as they beat them 2-1. Japan's players', Ritsu Doan and Takuma Asano scored two goals within the last 15 minutes of the game. On November 27, Japan played against Costa Rica and lost 0-1. Making it to the knockout stage, Japan advanced as they beat Spain 2-1. This was another great upset for the Spanish as Japan had an excellent performance. Ironically, there is a manga called Blue Lock written by Yusuke Nomura and Muneyuki Kaneshiro about soccer which in the series wrote about how Japan beat both Germany and Spain which in reality showed the same results at the World Cup. The manga gained popularity quickly, attracting a wide audience. Fans of the manga and team Japan frequently posted about these occurrences all over social media. Additionally, Japanese fans and the players were praised for always cleaning up after themselves and leaving their sections in the stadium spotless. Furthermore, making it into round 16 of the World Cup, Japan was against Croatia. During the game, Japan and Croatia had tied 1-1, entering penalty kicks. Japan's loss was quite an upset as Croatia made all 3 penalty kicks and Japan only made 1. Despite their loss, it was a grand achievement for Japan to beat two of the top ranked countries and advance this far into the World Cup.
Australia
Australia was placed in Group D which consisted of France, Denmark, and Tunisia. In their first match, they suffered defeat against France, losing 1-4. On November 26, Australia beat Tunisia 1-0 in addition to beating Denmark on November 30, passing the knockout stage. The country made it to round 16, against Argentina. This is the first time Australia made it to round 16 in 16 years since the 2006 Germany World Cup. Unfortunately, they lost against Argentina 2-1. However, the team was only encountered with praise as they had some of the best performances in many years.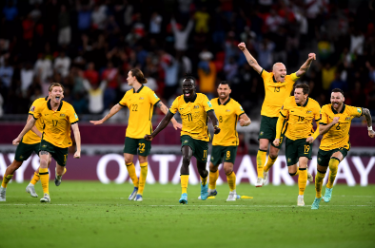 With the end of the Asian representatives playing in the World Cup, these were surely some of the best performances the world has seen.