Is M3GAN as Scary As You Would Anticipate?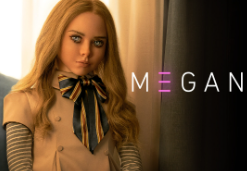 On January 6th, the horror/sci-fi film M3GAN was released in theatres. After a trailer was released with a dancing creepy doll with Taylor Swift's "It's Nice to Have a Friend" eerily playing in the background, audiences were expecting a strange but frightening experience. This movie met these anticipations but was even weirder and much less scary.
The film depicts Gemma, a roboticist with the goal to create her dream project for a toy company, who unexpectedly becomes guardian to her 9-year-old niece Cady after a fatal car accident. Finding it difficult to connect with Cady, while also hoping to create the next scientific masterpiece, she creates an artificial intelligence doll for Cady to play with, named M3GAN. This doll can talk, draw, recite scientific facts, and relate emotionally with Cady, all marvels that are almost from a dream for Gemma. But this dream is cut short when M3GAN has ulterior, and homicidal, motives for the people around Cady. The doll becomes evil and kills a dog and three people – all of them who have affected her owner negatively.
To not spoil anything, I will cut the synopsis short and add my own personal thoughts on the film. To clarify, I am a person that is wary of horror films and am afraid of gore and jump scares. When I went to see this movie with my friends, I was nervous about both of those things and more, but M3GAN did not exactly achieve those things. Yes, there were many moments of tension throughout the movie that had me and my friends clinging to our seats, but there was nothing too scary about this film other than the doll's suspicious appearance. There were moments during my film-watching experience where my friend sitting next to me cackled in laughter in the silent theatre due to the absurdity of the movie, and others where the rest of the audience tagged along and erupted in laughter (in which the M3GAN doll sings songs at random in an attempt to calm Cady down). It is safe to say that M3GAN is an entertaining movie experience for viewers, but don't expect too much fear as you watch.