4 Shootings, Eight Days, and One State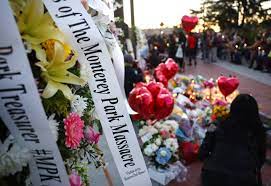 In just eight days, four separate shootings have taken place in California, killing at least 25 people. The rate at which these shootings took place, all within a week, illustrates the ever-growing problem of gun violence in the country and the desperate need for change. 
In the state's city of Half Moon Bay, 7 were found dead and one injured. The shooting took place in two separate scenes: three victims were shot next to the field of Mountain Mushroom Farm at a trucking business, while the other two victims were shot in the field itself. San Mateo County Sheriff Christina Corpus concluded that they were workers on the properties as well as the gunman, making them coworkers. The sheriff's office has identified the suspect as Chunli Zhao, a resident of Half Moon Bay and 66 years old. The authorities apprehended Zhao after he was discovered in his vehicle in a parking lot near a sheriff's station, lying back in the front seat along with the weapon on the passenger seat. The weapon was identified as a semiautomatic pistol. The motive behind the shooting is currently unknown. Sheriff Christina Corpus acknowledges this act as a "devastating tragedy for [the] community and the families touched by this unspeakable act of violence." We mourn and pray for those affected by the death of the victims. 5 of the 7 deceased victims were named by the San Mateo County Office of the Coroner: Marciano Martinez Jimenez (50), Zhishen Liu (73), Aixiang Zhang (74), Quizhong Cheng (66), Jingzhi Lu (64), and Yetao Bing (43). The injured victim was taken to Stanford  Medical Center with life-threatening injuries. 
At a ballroom dance hall in Monterey Park, about 6 hours away from Half Moon Bay, 11 people were killed with at least 9 more wounded. At the scene, attendees at the Star Ballroom Dance Studio gathered this past Saturday night to celebrate Lunar New Year. The gunman was identified as 72-year-old Huu Can Tran, an Asian American man. The motive of the shooting is unknown, but Monterey Park Mayor Henry Lo stated that he may have been targeting his ex-wife. The outcome of this tragedy could have been much worse had it not been for 26-year-old Brandon Tsay, who disarmed Tran. The ordeal between the gunman and Tsay lasted 4 minutes, as they both struggled to get a hold of the weapon. Tsay told NBC News's Lester Holt that "there was a moment [he] actually froze up, because [he] was, [he] had the belief that [he] was gonna die, like [his] life was ending [there], at that very moment. But something amazing happened, a miracle actually. [The gunman] started to try to prep his weapon so he could shoot everybody, but then it dawned on [Tsay] that [it] was the moment to disarm him. [He] could do something [there] that could protect everybody and potentially save [himself]." Tsay is recognized as a hero for his brave act, and it is untold the further dangers Tran would have inflicted had he not been stopped. He was later found dead of a self-inflicted gunshot wound on Sunday. Our hearts go out to those grieving the lives of those lost:  Valentino Marcos Alvero (68), Hongying Jian (62), Yu Lun Kao (72), Lilian Lin (63), My Nhan (65), Ming Wei Ma (72), Diana Man Ling Tom (70), Muoi Dai Ung (67), Chia Ling Yau (76), Wen Tau Yu (64), Xiujuan Yu (57). 
Although the motives of both these shootings are unknown, because the victims affected Asian Americans, it highlights the increasing violence and abuse towards Asian Americans. Furthermore, the pace of these shootings emphasizes the need for change and improvement within the state and federal government to prevent these tragic events from happening. However, instead of discussing these tragedies to push one's political agenda, we should encourage positivity and love for the victims and their families, who are undergoing a difficult time.