NJSIAA National Girls and Women in Sports Day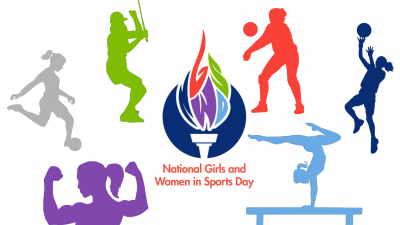 Colts Neck High School's very own Cat Vota was nominated for the National Girls and Women in Sports Day for 2023. Cat is an outstanding senior female athlete who excels at Colts Neck High School's swim team and track & field team. Not only has she demonstrated excellent performance during her time as a student-athlete at CNHS, but her abilities have also been recognized by schools around the nation. She has even committed to the United States Naval Academy where she will continue her track & field career. Cat has agreed to do an interview about her academic and athletic accomplishments as a woman in sports and answer some questions!
Interviewer: Hi, Cat! Thank you so much for your time today.
Cat: Of course, thanks for having me!
Interviewer: Let's get right into the questions. This is truly an amazing accomplishment, how does it feel to be nominated to represent Colts Neck High School for the NJSIAA Women and Girls in Sports Day?
Cat: It is such a huge honor to represent all the amazing female athletes that compete for our school. Female representation in sports is always something that I have felt very passionate about, it feels amazing to be the representative for our school for something that means so much to me.
Interviewer: That's awesome, Cat! You're an excellent paradigm of what young female athletes can achieve. How do you manage your time between school, practice, and meets? Does it ever get stressful for you?
Cat: I think participating in sports from a young age helped immensely in learning the importance of time management. I learned the importance of planning my week out with time to study for tests and quizzes and getting extra work done on the weekends, even when I didn't necessarily want to. Sometimes life can be a little bit stressful but being able to compete with the team and for the school energizes me. It makes the late nights totally worth it.
Interviewer: That's really impressive. As a fellow student-athlete, I truly admire your ability to maintain that balance. I understand it can get difficult. What's your favorite part of being a student-athlete?
Cat: Competing in sports for me is a huge stress relief. I love to get a good workout after a long day of school and homework. I love competing in high school sports because it feels even more meaningful, everyone working together for the team.
Interviewer: Who's your greatest inspiration to work hard?
Cat: The person that is my greatest inspiration to work hard is definitely my Mom, she has always supported me and all of my activities, and I am extremely grateful for her. I have always looked up to my Mom and her work ethic so she inspires me to constantly work hard.
Interviewer: Aw, that's adorable! I'd say my mom too. Moms are definitely the best.
Cat: 100 percent. She's always there for me.
Interviewer: Has there been a moment when you doubted whether or not you could continue as a student-athlete? If so, how did you overcome that feeling?
Cat: Nope, I haven't doubted that I couldn't continue as a student-athlete but I have definitely had stressful times during peak meet season and when a lot of school work is given. I think with time you learn to balance school and sports in a way that works for you where you can become successful.
Interviewer: What's the best advice you've ever been given?
Cat: The best advice that I have ever received was from my grandfather and his principles on hard work. He always told me "The harder you work, the more successful you will become." I find this to be great motivation; sometimes when I am worn out or tired I just think of the success that will come from putting in some more work.
Interviewer: Oh, he's totally correct. What you put in is what you'll get out. What advice would you give younger females that want to pursue athletics alongside academics?
Cat: I would say that time management is key, learning a good balance between sports and school is critical. Prioritizing work as soon as it's assigned, avoiding procrastination, and just being proactive with work allows for more time to be spent participating in sports and other activities.
Interviewer: Thank you so much for your time today, Cat! Again, congratulations on your achievement. Colts Neck is so proud of you and we cannot wait to see you do great things in college and the future in general!
Cat: Thank you for having me! I appreciate it a lot.