Colts Neck High School Wins Monmouth County Mock Trial Championship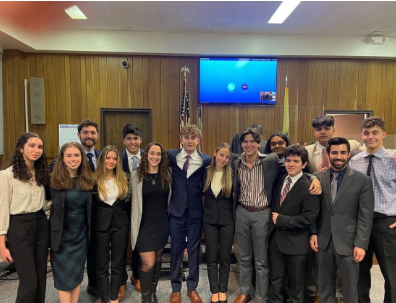 Congratulations to the Colts Neck High School Mock Trial Team for winning the Monmouth County Mock Trial Championship! Colts Neck High School's Team won every single trial 5-0. The Competition ran from January 24 to February 2. 
The New Jersey Vincent Apruzzese Monmouth County Mock Trial Competition is a competition for high school students to understand and act as a legal team through a fictitious case. The lineup this year was:
Sawyer Chang, 11th Grade: Plaintiff Attorney
Gabriella Morfino, 10th Grade: Plaintiff Attorney
Eliana Zlotnick, 11th Grade: Defense Attorney
Benjamin Ilyin, 10th Grade: Defense Attorney
Nick Khan, 12th Grade: Plaintiff Witness
Frankie Dige, 11th Grade: Plaintiff Witness
Mikaela Hartman, 11th Grade: Expert Witness
Jeff Karpelson, 11th Grade: Defense Witness
Rob Maravelias, 11th Grade: Defense Witness
Armaan Malhotra, 11th Grade: Expert Witness
The team's attorney coaches this year were Bill Visone and Dom Conoshenti. The Mock Trial Club is advised by Mrs. Richmond. 
This year's case explored themes of negligence while tying in relatable topics like social media influencers, energy drinks, and childhood best friends. 
The team moved on to regionals on February 28 and did not advance further. 
I interviewed some of the team on their thoughts about this year's case and some of their highlights. 
Q1: What was your favorite part about this case?
Nick: I think that the entire idea of "Kid dies because of influencer friend" was pretty neat, but overall this year's case wasn't the best, definitely a step up from last year but still it's nothing too crazy.
Sawyer: My favorite part about this case would be how all of the witnesses played a key role, as I have found that sometimes there are some witnesses that do not add any substantial evidence in prior cases and thus appreciate the gravity of each witness.
Mikaela: I really liked how the case seemed so cut and dried, but a team could bring out some unexpected complexity and completely change the game
Q2:What is one of your favorite memories from this season's competition?
Gabriella: I think one of my favorite memories from this season is our Saturday practices. From 8 am to 12, sometimes later, that was really when our team got to work with each other, dissecting the nitty gritty of the case itself. But one memory sticks out. In order to practice arguing for objections, we would practice cross examining witnesses to the extreme, have the witness fight you on anything and say the most ridiculous things so you could test out our skills as an attorney. Jeff, who played the witness I was cross examining, would say the most ridiculous things, and we would all laugh as I tried to fight my way through every objection. Although it was great practice, times like this were super fun and really allowed us to grow closer over the season. 
Benjamin: Some of my favorite memories from this season were going out to dinner after trials. 
Jeff: My favorite memory from this year's competition is when I walked into the Monmouth County Courthouse for the county finals. We're all there and I start to loosen up a bit: I undo my top two buttons, put my collar over my jacket, and fold my sleeves over my jacket like Al Pacino in Scarface. I'm standing around in this attire, Ms. Lucarelli comes over and she goes "Fix your jacket! Now! Come on boys, help him out." So, I'm fixing my jacket and buttoning my shirt and the judge walks in shortly after. I almost dodged a bullet, but I feel like it almost helped our odds in the competition since we were all joking around and being lighthearted. Honestly, all the times when we joked around were fun. It's about the bonding and little moments of joy here and there and less about the law. 
Q3: What advice would you give to someone who might be interested in joining Mock Trial next year?
Sawyer: To anyone interested in the Mock Trial team here at Colts Neck, I would strongly advise you to get involved- reach out to the student attorneys via social media or in school and ask them any questions you have. Additionally, if you are not selected for the team your first year, stick with it and you will have a much better chance of making the team the next year if you continue to show interest.
Nick: Be confident in how you speak, during tryouts and while in character during competition. That's especially true if you're a witness since you need to actually believe that you're the witness you're playing. It's not you playing the witness, you are the witness.
Jeff: The advice I would give is if you are interested, try it out. You can't lose anything by trying out, and furthermore, you might be kept on the team as a shadower of one of the attorneys. Sticking around for a year, just helping out, can land you a spot in the following year – as Sawyer can attest. That would be my advice, try out because you never know. You could make the team, love it, and become a great asset to the team. All it takes is one shot and you miss every shot you don't take, so go for it. It's better to get involved early on to better yourself with legal knowledge, better your position on the team, and furthermore, better your resume from the start. I've been on the team since freshman year, just like Rob, and we've learned a lot. 
Q4:If you could go back and change one thing about the trials, what would you do differently?
Benjamin: If I could go back and change one thing, I would make objections that I had missed. 
Mikaela: In that last competition, I would've liked to stay calmer. I felt like I was being attacked a bit and almost like I was stooped down to that argumentative level. I think I could've handled that cross examination a little better. 
Gabriella: I would definitely work on objections. Knowing when to object, what to listen for, etc. I never really had much of a problem with memorization or tone, but objections were the aspect of Mock Trial that was completely new to me as my first year on the team. It took awhile for me to develop the skills to be able to debate and argue on the fly, with an audience no less. But once I got it down, it became one of my favorite parts of competing. I only wish I would have had even more time to develop that skill, as objections usually serve as the tie breaker when it comes down to the winner of a really close match. 
Congratulations to the team on a hard-earned victory against Allied Academy of Health and Sciences. Their hard work and effort is commended.