Homecoming Violence and a Historic Victory For Marlboro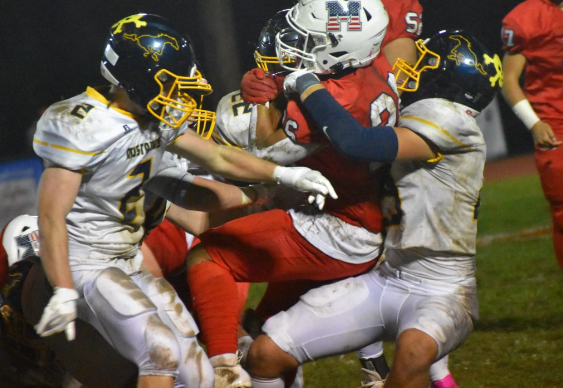 As the Marlboro Mustangs broke a 28-year losing streak against the Braves, tensions between fans on both sides nearly erupted into violence.
It was chilly on the night of October 15th. The Manalapan High School homecoming game was tied 14-14 with only seconds left in the fourth quarter. The moment was indescribably tense, just as the whole night had been. Then, with just barely eight seconds on the clock, Luke Rubin of the Marlboro Mustangs scored an eighteen-yard field goal that brought his team a last-second victory.
Tensions between Manalapan and Marlboro were high the whole night. After all, the two towns have a well-known sports rivalry that has festered since 1994, the last time Marlboro beat Manalapan in a football game. Audiences on both sides antagonized and jeered at each other – in the parking lot, at the concessions stand, and by the bleachers Tensions seemed to nearly boil over into violence at times.
In one incident, I witnessed a crowd of at least two-dozen Manalapan students, adorned in red clothing and facepaint, walk over to the Marlboro bleachers and hurl insults at attendees. Half the bleachers cleared out as the Marlboro crowd got up to confront their rivals. Both sides had to be pushed back by adult attendees. A student in the Manalapan crowd made his way to the front and shouted at his fellow students to go back to their side, and the conflict was diffused not long after.
Later on, a chase and fistfight broke out between two unidentified students. A Manalapan student ran around in front of the Marlboro bleachers chanting for his own team, and a Marlboro student got up and chased him down.
Marlboro's victory on the 15th put to death a 28-year losing streak against Manalapan. The Braves haven't been doing too well all season: they are currently running with three wins and five losses this season. They've lost all four of their home games: on September 9th, they lost 17-14 against Middletown South; on September 23rd, they lost 14-10 to Rumson; and on October 7th, they faced a crushing defeat of 23-0 against Red Bank Catholic. In away games, Manalapan has been doing better, with three wins and one loss.
Manalapan's loss to Marlboro was reminiscent of their previous home losses to Middletown South and Rumson. Manalapan was initially leading but the game tied in the second half, and then the away team managed to pull ahead in the final minutes.
The fateful eighteen-yard field goal Luke Rubin scored, his first field goal of the season, is a historic moment for New Jersey football. A 28-year rivalry has been intensified after a triumph no one expected. It also brings a much-needed morale boost to the Mustangs after three consecutive losses.
Marlboro recently defeated Colts Neck 14-0 in a game at our school, breaking our six-game winning streak.