For the Children's Color Run: A Smash Hit!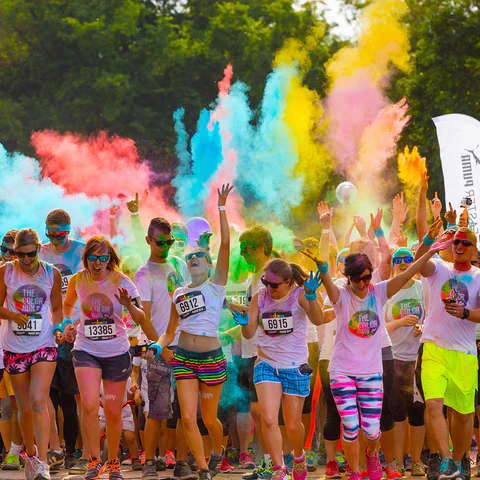 On May 20th, Colts Neck High School's For the Children hosted their annual Color Run, a 5K for both students and Colts Neck residents with a fun twist! The event took place at Bucks Mill Park, where runners ran about 3 miles throughout the park and were met with surprise color throwers throwing vibrant colors at them. After the conclusion of the run, there was a dunk tank where students were able to dunk both Mr. Lawlor and fellow students. There was also a raffle! Raffle prizes included a Kate Spade purse, signed posters from the Giants, and a multitude of other prizes from local businesses. The local fire station also sent a truck to the event, and an ice cream truck was present for students to treat themselves after a tiring race. 
For the Children's main goal as a club is to raise money for children in need around the world, specifically in developing countries where they do not have easy access to education. The money that was collected from this Color Run will go to two scholarships for 1 boy and 1 girl in a community in Belize so that they are able to go to school. Any additional money will be sent to the community to help them establish better educational opportunities for their students. Ultimately, the run demonstrated CNHS' dedication to bettering the world around us and reminded participants of how important and easy it can be to give back to those in need. 
The Color Run was an NHS-sponsored event, and all members of the NHS were required to contribute to the run in some way. This included physical donations of food or items to the raffle, monetary donations, or volunteering at the actual run. Despite inclement weather, the run had a great turnout, with many eager runners and color throwers. Thanks to the dedicated members of FTC and the hard work they put into this event, lots of money was raised to help assist students in attending school and accomplishing their dreams.